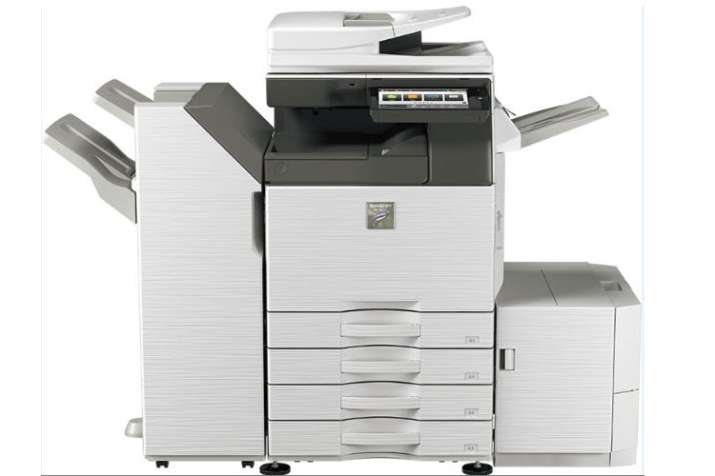 SHARP launches 7 new models of mid-to-high-volume Mono Multifunction Printers that will be offered in distinct varieties that include the Advanced Series, the Essentials Series and the New High-Speed, High-Volume models. The models come with SHARP's multi-layered security features that help in ensuring the customers' intellectual property and personal information that is protected from the first day of operation to the time of trade-in.
Also, read: Sony HT-X8500 soundbar with Dolby Atmos launched in India
The 7 models of A3 Mono Multifunction Printers launched include the MX-M5050, MX-M6050, MX-M4070, MX-M5070, MX-M6070, MX-M6570 and MX-M7570. The New Advanced and Essentials Series models from SHARP are ideal for Large Work Groups, Corporates, and high volume printing that have scanning requirements. All these Multifunction Printers are designed for an unmatchable User Experience for Simply Better business. It comes with an easy-to-use 10.1inch touchscreen display that offers an intuitive graphical interface with Easy Copy and Easy Scan screens, as well as quick access to on-board user guides. The printers also support popular mobile technologies that include Apple AirPrint, Android Print Service and Google Cloud Print.
 
Speaking at the launch, Shinji Minatogawa, Managing Director, SHARP Business Systems (India) Pvt. Ltd., said, "We are proud to offer our new family of mono MFPs, built on a single-engine design that will empower businesses of every size to choose the performance and features they need, while taking advantage of the learning curve of a common interface."
 
"We also take immense pleasure to launch our largest line of commercial 4K Ultra-HD displays till date. The extensive range of screen sizes ensures that our customers can now employ uniform technology and imagery in diverse locations and environments to suit individual business needs" added Minatogawa.
Essentials Series: MX-M5050 and MX-M6050
The Essentials Series MFPs provide intelligent solutions for the workplace that are designed to offer full multifunction capability with lower TCO (Total Cost of Ownership). The MX-M5050 and MX-M6050 offer out-of-box copying, network printing and network scanning at speeds of 50ppm and 60ppm and gets features like Voice Assist and best in class Multi-layered Security system.
Advanced Series: MX-M4070, MX-M5070 and MX-M6070  
The new MX-M4070, MX-M5070, MX-M6070 multifunction copiers offer print speeds up to 40, 50, 60, pages per minute respectively, and offer superior performance with higher resolution of 1200 DPI. Advanced Series models enable users to easily set up and execute workflow tasks. These models offer many productivity enhancements, such as high-speed scanning of up to 200 OPM (Originals Per Minute) and a walk-up motion sensor that brings the machine to ready condition within 10 seconds.
New High-Speed High-Volume models: MX-M6570 and MX-M7570:
The new high-volume models MX-M6570 and MX-M7570 multifunction printers deliver workhorse performance and offer advanced workflow features with print speeds up to 65 and 75 pages per minute. These are high-speed and high-volume printing machines designed for demanding customers that need superior performance with high resolution of 1200 DPI. Advanced options include a multi-folding unit that offers five different types of folds, enabling users to create professional-looking pamphlets.
 
Apart from the new Multifunction Printers, SHARP has also launched 4K Ultra-HD Resolution Commercial LCD Display Line that includes a 43" (PN-HW431), 55" (PN-HW551), 65" (PN-HW651), 75" (PN-HW751) and 86" (PN-HW861) commercial displays.
                                    
The PN-HW series displays are large format screens with the slim bezel that come with powerful RS-232C control and command set that provide flexible remote control capabilities from connected devices. It also comes with lockout capabilities that include public mode function for environments that require more control over the content and gets multiple HDMI inputs that allow the user to connect several HD sources, including digital signage. There is also a built-in USB media player that lets the user present a variety of digital content directly through the USB port.
 
"The new series of SHARP's monochrome MFP's has been designed to help businesses streamline their office workflow while providing an intuitive user experience, flexible integration and enhanced productivity with the highest level of data security" quoted, Manu Paliwal, President – Business Solution Group, SHARP Business Systems (India) Pvt. Ltd."And we totally believe, that SHARP's new array of 4K Ultra-HD Resolution Commercial LCD Display Line would be an ideal choice for hospitality, business and retail ecosystem," added, Paliwal.
Pricing and Availability:
The price of the new High Speed A3 Mono models viz. MX-M5050, MX-M6050, MX-M4070, MX-M5070, MX-M6070, MX-M6570 and MX-M7570 MFPs, ranges from INR 3, 95,000 to INR 9, 25,000 and are available for purchase via authorized SHARP dealers and direct sales. 
The pricing of 4K Ultra-HD Resolution Commercial LCD Display Line from INR 1,14,000 to INR 9,93,000.
Also, read: Xiaomi Redmi Note 7S with 48 Megapixel rear camera set to launch in India on May 20