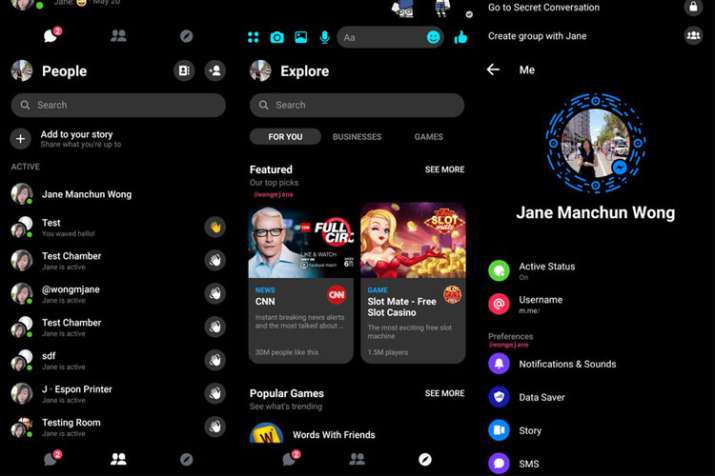 Facebook had announced the dark mode feature in October last year and now the company is testing the new dark mode on the Messenger app. The company is conducting the test in selected countries and Facebook is testing various features and changes in recent times, along with the dark mode.
Also, read: Apple iPhone XS Max explodes in Ohio, claims owner
Jane Manchun Wong, a well-known app teardown expert tweeted that Facebook would start testing the dark mode within the Messenger app, but only in few countries. She also added that the new dark mode is not available everywhere and the company has issued a 'Work in Progress' warning, within the app for the same.
She tweeted a screenshot of the Messenger upcoming dark mode, in which the white background colour becomes black and the text becomes white.
Last year in October, Facebook had launched a revamped version of the Messenger app, with a whole idea of simplifying the usage, making it easier for users to make videos calls, chat and more.
Facebook Messenger, seemingly due to prolonged external nagging, has started public testing Dark Mode in certain countries

They have put up a fair warning that Dark Mode isn't everywhere yet so don't complain when some UI burns your eyes off

previously: https://t.co/9fCvbYXS5Z pic.twitter.com/wF3w5hsHfh

— Jane Manchun Wong (@wongmjane) December 31, 2018
As if now the list of the supported countries is not known. The 'Dark Mode' setting will appear in the 'Me' section of the app that will include a warning detail to work in progress. This sign appears when toggling with the feature.
With the company testing the new dark mode, seems like the final version is not too far before it is rolled out officially.
Also, read: Xiaomi Notebook Air with a 12.5-inch display and Intel Core i5 processor unveiled