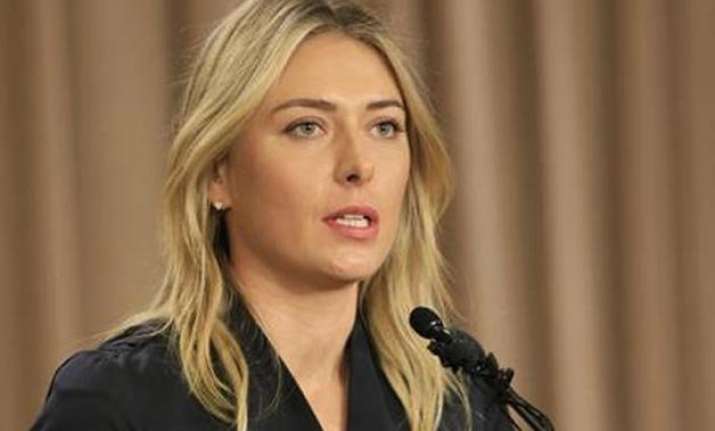 Los Angeles: Tennis star Maria Sharapova shocked the world of sports after she announced a failed drug test at Australian Open, saying a change in the World-Anti-Doping Agency banned list led to the violation.
Sharapova said she tested positive in an in-competition test at the Australian Open, where she lost to Serena Williams in the quarterfinals on Jan. 26. Sharapova hasn't played since while recovering from a forearm injury.
A five-time major champion made the announcement at a news conference Monday in Los Angeles.
"I have no one to blame but myself. (You have a team around you) but at the end of the day, everything that you do is about you," Sharapova said.
"I have been very open and honest about many things, I take great responsibility in my job ... I made a huge mistake," she added.
Sharapova said she tested positive for meldonium, which she has been taking for 10 years for health issues. Meldonium became a banned substance this year.
"I received an email from WADA ... with a link where you could see the prohibited items for 2016. And I did not look at that list."
Sharapova has indicated she does not want to bow out of tennis in such a manner.
"I made a huge mistake. I've let my fans down, I've let the sport down. I don't want to end my career this way," she said.
"I do not (know the consequences). This is very new to me. I just received a letter a few days ago and I will be working with the ITF."
The WTA has not announced a penalty.
Sharapova, currently sidelined with a forearm injury, hasn't competed since losing to Serena Williams in the quarterfinals of the Australian Open in January.
Sharapova also is thought to be the world's highest-paid female athlete due to her extensive business ventures and endorsement deals. Forbes estimated her earnings at $29.5 million for 2015, with $23 million from off-court ventures.
Sharapova has been among the best players of her generation since bursting onto the scene as a 17-year-old Wimbledon champion in 2004, beating Williams in the final. She won the U.S. Open in 2006 and the Australian Open in 2008 before finally completing the career Grand Slam with French Open titles in 2012 and 2014.
She became the world's top-ranked player in August 2005 and held the ranking five times for 21 weeks during her career. While she never came close to matching Williams' 21 Grand Slam titles, her five Grand Slam titles rank behind only Serena and Venus Williams among active players.
Sharapova was born in Russia and lived briefly in southern Sochi before moving to Florida as a child to begin her tennis career. She lives primarily in the Los Angeles area now.
(AP)