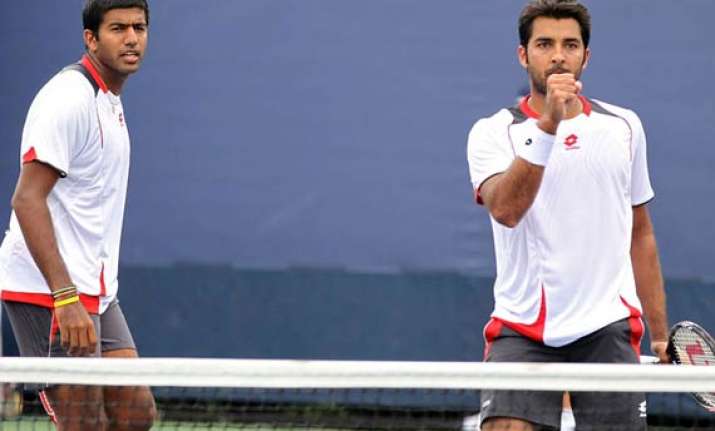 Karachi, Nov 30: Ace Pakistan tennis star Aisam-ul Haq Qureshi on Tuesday denied his split with India's Rohan Bopanna was bitter, saying his former doubles partner remains a friend and is invited to his wedding.

The 31-year-old Pakistani star joined hands with Bopanna as a doubles partner in 2007 -- at a time when India-Pakistan diplomatic relations were at a low ebb. Their unlikely partnership was hailed as a symbol of friendship between the rival nations.

Dubbed the " Indo-Pak express", the duo -- currently ranked ninth in the world -- shot to fame after they reached the US Open doubles final last year.

But Bopanna told the Indian Express newspaper on Monday that he will team up with veteran compatriot Mahesh Bhupathi in 2012, while Qureshi will next partner Dutchman Jean-Julien Roger at the Australian Open in January.

"Some three months ago Bopanna came to me and told me that in order to qualify for 2012 London Olympics he has to play with an Indian partner and although it was shocking for me I respect his decision," Qureshi said.

"In my opinion it ended on a good note and we will continue to be good friends and ambassadors of peace. In fact he is invited to my wedding and he has promised to attend."

Qureshi is getting married in the eastern city of Lahore on December 16.

The duo actively promoted better India-Pakistan ties and even offered to play tennis over the land border dividing the two countries, which have a history of warfare and political tension.

"It was a unique partnership, very very special not only for us but for the people of both the countries and we achieved remarkable results on and off the court," said Qureshi.

He did not rule out regrouping with Bopanna at a later stage, but for now he plans to focus on his personal sporting goals.

"I am not looking far ahead as I am also doing my bit to qualify for the Olympics and since I had to find a partner I have settled with Jean-Julien Rojer," he said.

"I have my own goals and that is to continue to keep my flag high in the world of tennis."