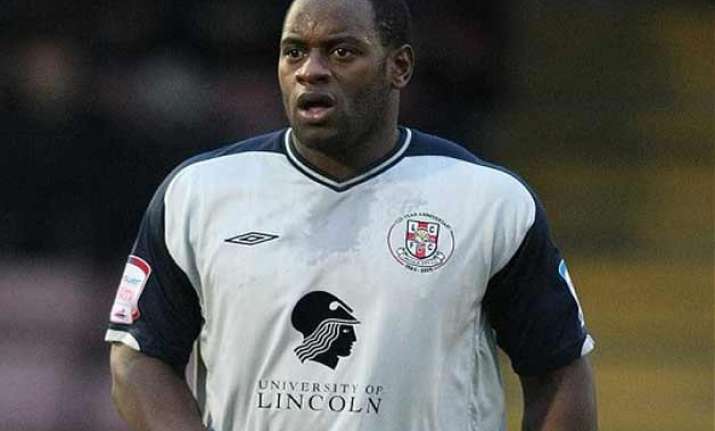 Birmingham, England: A former Premier League player was sentenced to 2 1/2 years in jail on Wednesday after being convicted of plotting to bribe lower-league players to fix matches in England.
Delroy Facey, who played as a striker for Bolton in England's top division in 2002 and for many other lower-league clubs in an 18-year career, was found guilty by a jury at a court in Birmingham. A former non-league player, Moses Swaibu, was convicted of the same charge and jailed for 16 months.
Two Asian businessmen and another lower-league player have already been sent to jail following an investigation by the National Crime Agency that focused on matches in League Two and the Conference South — the fourth and sixth tiers of English soccer.
"The NCA is in no doubt that this was the beginning of a concerted attempt to build a network of corrupt players in the U.K.," NCA officer Adrian Hansford said in a statement. "That network included Facey, who acted as a conduit for potential targets, and Swaibu, who was recruited to expand the network further.
"They deliberately targeted lower leagues believing that because players earn less, they could be more susceptible to taking a bribe."
The court was told that Facey, who retired in 2013, had urged a player at a struggling non-league club to make some "easy money" by fixing the result of a match. He also told a contact that some Football Conference teams would "do" a game in return for payment.
In one text-message conversation in late 2013, Facey tried to corrupt a player by offering him 2,000 pounds ($3,000).
Facey said in court that he thought the two corrupt businessmen who were offering him up to 15,000 pounds ($23,150) for his part in the plot were "clowns" who he decided to "humor."
The NCA was alerted to corrupt activity by British newspaper Daily Telegraph, which had conducted its own undercover investigation.
The NCA deployed surveillance teams to watch and listen to the men involved in the plot and say their "meetings, conversations and messages built up a picture of a concerted effort over seven days to engage and corrupt footballers to influence the score line of matches, and pass information to a wider overseas network to make money by betting on the outcomes."