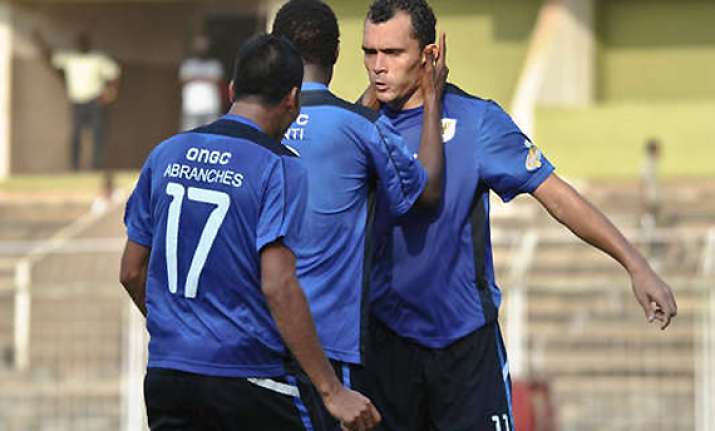 Margao, Nov 23: Dempo extended their winning streak by rolling past Shillong Lajong with a thumping 5-0 win for their seventh straight win in their seventh round I-League match at the Nehru stadium, Fatorda, here today.

Dempo, who were 3-0 at half time, scored through a brace by Man of the Match Anthony Pereira (4th minute, 35th), Koko Sakibo (23rd), Ranty Martins (50th) and Clifford Miranda (52nd).

Dempo were aggressive from the beginning as they played with quick short passes followed by long balls from the flanks that caught the rival defense napping.

Pereira worked with perfect understanding with Ranty Martins and Sameer Naik on the right flank, which saw him score two goals.

Trying to match their fancied rivals, the visitors also played an attacking game leaving lots of gaps in the process which Dempo exploited to score three goals in the first half.

A quick built up on the right saw defender Sameer Naik relay the ball to Ranty Martins who back healed it to Anthony Pereira. Pereira quickly adjusted himself after getting past a defender and on the run let go a left footer from inside the box beating rival keeper Soram Anganba all ends.

The North Eastern side made counter moves and nearly succeeded in finding the equaliser in the 14th minute but Zenith's powerful shot from the top of the box off John's pass was fisted over the bar by Dempo's keeper Subhasish Roy Chowdhury.

Pereira, who switched himself on the left flank sent a pass to Koko Saikobo who sliced through the rival defense and beat the keeper to find the back of the net to increase the Goan club's lead.

Dempo continued to put the pressure and held midfield superiority further swelling their lead in the 35th minute.