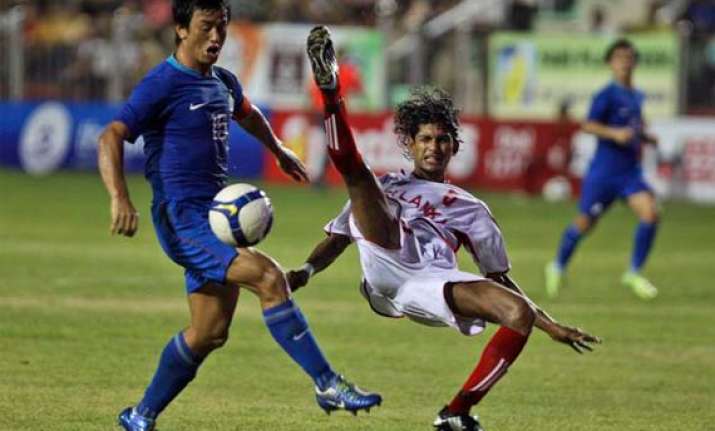 New Delhi, August 20: Baichung Bhutia is not going to be a part of India's tour of England scheduled in September.

Though the official announcement from the man himself is just a matter of time, Bhutia's decision makes it almost certain that a fantastic career has come to an end.

At 34, it will be difficult for the ace striker to make any more comebacks. He has been struggling with a calf injury that has kept him away from action for almost a year now.

"I tried my best to get back in shape. But I can feel that the body is not responding as well as it used to. It would not be fair to hang on and deny a youngster his place in the national squad if I am not 100 per cent," Bhutia told TOI on Friday.

Though he made the trip to Qatar for the Asian Cup, he hardly had any role to play except for a cameo role in the last match against South Korea. Bhutia has had smaller stints with his own club, United Sikkim in the second division national league to get back in shape but he is yet to reach the fitness level that will keep him going.

National coach Armando Colaco dropped him and a host of seniors for the pre-World Cup qualifiers and the Caribbean tour but later relented and picked him for the England tour.

Bhutia is in the Capital where he trained with the national team but all is not going well with the 'Sikkimese Sniper'.

Bhutia scored 43 goals in 109 international appearances and almost single-handedly carrying Indian attack for almost a decade once IM Vijayan called it a day.

There is no trophy in the country that Bhutia has not laid his hands on while playing for East Bengal and Mohun Bagan. He also had one fruitful season with JCT, helping them win the inaugural National League in 1996.

"It would have been nice to quit with my boots on, maybe while playing a match, but I don't really see it happening now. I was looking forward to this England tour where we are playing Pakistan. After two days of training, I can say I am not making it. I am not fit enough to go," the skipper said.

India's UK tour confirmed

The Indian U-23 football team will play three matches on their UK tour beginning Sept. 3, an AIFF statement said on Friday. The squad, which is currently training at a preparatory camp under coach Sukhwinder Singh in Gurgaon, will leave for UK on Aug. 27. India will play England on Sept. 6 while they will face Pakistan twice (Sept 3 & 6).