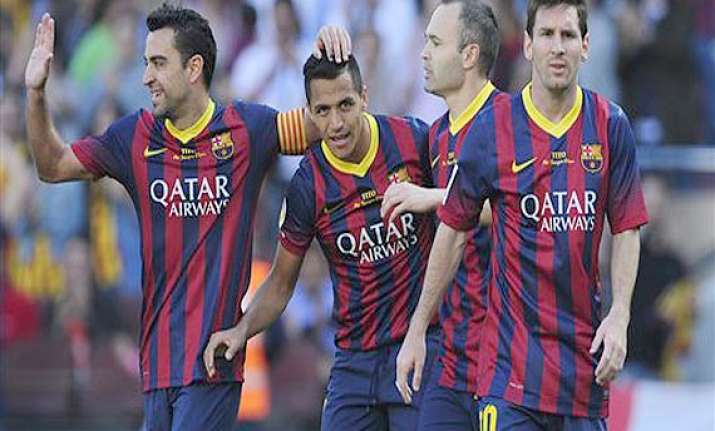 MADRID : Barcelona coach Gerardo Martino called on his team Saturday to take advantage of its opportunity to turn a disastrous season into a winning one by securing an unlikely Spanish league title.
Barcelona trails Atletico Madrid by three points with two games to play but can retain its crown by winning both games since it hosts the leader on the final day.   
A week after a 2-2 draw to Getafe left Barcelona ruing a late-season collapse and staring at a season without silverware, Barcelona remains in the hunt thanks to Atletico's defeat last weekend.   
"From the best team in Europe to a disastrous one, we still have the same possibilities of winning a title. We don't necessarily need to be the best version of Barcelona but (we need) to win these last two games," Martino said Saturday.   
"We've got a unique opportunity, but you've got to respond on the field. We have maximum expectations but what we manage to achieve is something else altogether."   
Barcelona will be without striker Neymar and defenders Gerard Pique and Jordi Alba at Elche on Sunday, when Atletico hosts Malaga.   
Martino did not speculate about his future after sport director Andoni Zubizarreta met with Celta Vigo coach and former Barcelona player Luis Enrique midweek.   
However, the Argentine sounded like a coach counting down his days.   
"No specific result will modify my future," said Martino, who signed a two-year deal before the start of this season. "Even if we win the league, it doesn't necessarily mean I've done a good job."   
As for Enrique, Martino said Barcelona "hasn't done anything wrong, it has nothing to apologize about."   
Atletico, meanwhile, could have striker Diego Costa against Malaga after the Brazilian-born, Spain forward appeared to be recovering from a hamstring injury. Atletico coach Diego Simeone said Costa's availability would be a game-time decision, as the club tries to secure its first league trophy in 18 years.   
"We don't feel pressure, but a responsibility. This is a fantastic moment we find ourselves in," Simeone said Saturday. "You live in the football world to reach moments such as these."   
Atletico will clinch the title at its Vicente Calderon Stadium with a victory should Barcelona fail to win its game, or a single point should Barcelona lose.   
"Our destiny will be marked by what lies ahead," Simeone said. "We'll try to do our best. We'll go for the victory. We need to do what we need to do."