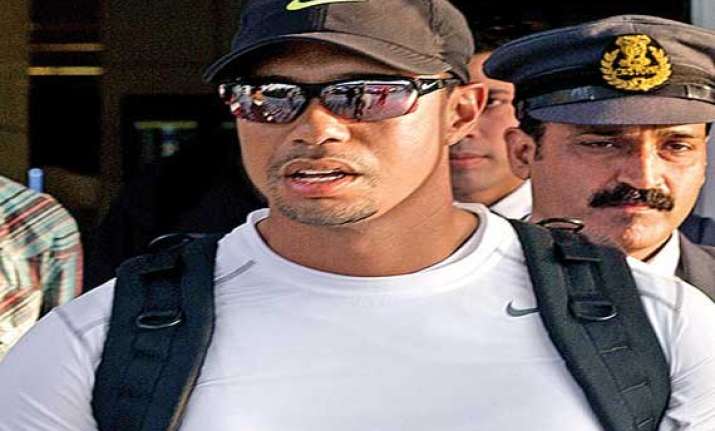 New Delhi: World No.1 golfer Tiger Woods played the full 18 holes at the Delhi Golf Club (DGC) Tuesday carding an unbelievable nine under during an exhibition game to enthral fans.
To put things in perspective, Mohammad Siddikur of Bangladesh finished with a total of 14 under 274 at the same course when he won the Indian Open crown.
Only select media personnel and DGC members were invited to the private event organised by the Hero Group and the World Sports Group (WSG).
Woods, who reportedly received $2.2 million for the appearance, played with Hero MotoCorp MD and CEO Pawan Munjal and some select invitees for most of the time.
He was later joined by Indian golf stars Shiv Kapur and Anirban Lahiri who played the last three holes.
"Thanks so much for the time, it was an absolute blast. It is hard to say how much fun I had today. It was a narrow golf course and I was nervous with my tee shot. My best buddy Arjun (Atwal) told me so much about India and I am happy to be here. Thank You so much," Woods told reporters.
Among the guests were former India cricketers Madan Lal and Murali Karthik.
The American golfer arrived here Monday from Dubai, where he took part in the Dubai Desert Classic, and was whisked away from the VIP area at the airport amidst tight security.
Meanwhile, the general public was left a little aggrieved by the privacy of the event. Many had wanted to get a glimpse of the sport's most popular figure but the 'members only' tag left them disappointed.
"A few days back I had heard the news that Tiger Woods would be coming to Delhi and that got me really excited. I am not a member of the DGC but I sometimes go play with a few buddies of mine there, so I called them to enquire but they gave me no details. Later I found out in the news that this was a members only event but I still came here hoping to see him," golf enthusiast Varun Bapna told IANS.
"It's a shame that ordinary people can't see him play. You have to be a member or know some big shots. This once again proves that golf is such an elitist sport," said Dhruv Bhatia, a big Tiger Woods fan.