Follow us on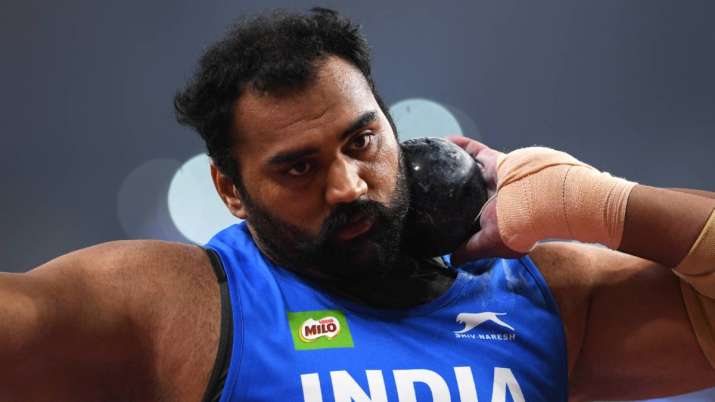 India at Tokyo Olympics Day 11 HIGHLIGHTS
Results for India on Day 11:
Men's Hockey: Indian men's hockey team loses 2-5 to world champions Belgium in the last-four stage.
Wrestling: Sonam Malik suffers first-round defeat on criteria against Mongolia's Bolortuya Khurelkhuu in the 62kg category.
Athletics: Annu Rani finishes 14th in the women's javelin throw final with a below-par throw of 54.04m. Tajinderpal Singh Toor out in shot put qualification
----------------------------------------------------------------------------------------------------------------------------------------------------------------
04:37 PM: Tajinderpal is officially out of contention for making the next round. 
04:29 PM: Tajinderpal slips to the 13th position after New Zealand's Thomas Walsh got his second attempt reviewed. The latter has been given a green signal and now stands seventh with a throw of 20.38 m
04:24 PM: OHHHH DEAAAR!!! Another FOUL THROW for Tajinderpal. 
04:24 PM: Tajinderpal Singh Toor stands 12th after the second round of throw. 
04:03 pm: Tajinderpal up for his second attempt...and that's a FOUL THROW
04:03 PM: Tajinderpal Singh Toor stands 6th after the first round of throw with 19.99m
03:45 PM: Tajinderpal throws 19.99 in his first attempt
03:44 PM: Tajinderpal will go first. The direct qualification mark is 21.20m. There are two groups in the qualification process and the top 12 from both groups will make the final.
03:42 PM: World no.20 Tajinder's personal best throw is 21.49m and season-best is 21.49.
03:41 PM: Shot-putter Tajinderpal Singh Toor in action in Group A 
03:26 PM: Meanwhile, Simone Biles wins bronze in the balance beam
2:12 PM (Athletics): Tajinderpal Singh Toor, who set a new national mark of 21.49 metres at the Indian Grand Prix in Patiala two months ago, will look to deliver a similar show in Tokyo. 
2:00 PM (Hockey): After today's minimal action, the focus will shift towards the Indian women's hockey team. The Rani Rampal-led side stunned three-time champions Australia 1-0 to book the semifinals berth. They'll be facing a stiff challenge against mighty Australia. 
12:04 AM (Athletics): Later in the day, Tajinderpal Singh Toor will be seen in action at 3:45 PM IST. He will compete in men's shot put qualification Group A. 
11:53 AM (Basketball): USA advance to semi-finals with a 95-81 victory over Spain! USA will now play the winner of Argentina vs Australia. Kevin Durant scores 29 points to keep his quest for a third Olympic title alive.
11:51 AM (Wrestling): Anshu Malik,19, is set to face a stiff challenge in her opening bout. She has drawn European champion Irina Kurachikina. 
11:48 AM (Wrestling): Ravi Dahiya and Deepak Punia have got a good draw! Dahiya will open his 57kg campaign in the Tokyo Olympics against Colombia's Tigreros Urbano. Punia is pitted against Nigeria's Ekerekeme Agiomor.
11:31 AM (Basketball): Spain and USA and currently locked in a tight quarter-final contest. USA are leading 69-63 at the end of the third quarter.
11:14 AM: Skipper Manpreet Singh doesn't want to dwell on the heartbreak: "It's a great honour for us reaching the semifinal after a long time, but now I think we need to focus because the next match is going to be really important for us. At least we should win a bronze medal for the nation."
10:39 AM (Hockey): Sports Minister Anurag Thakur on the Indian team's show against Belgium: "Boys, You played well. You gave it your best. We're with you. We still have a match to go. We are #TeamIndia ! And we DONT EVER GIVE UP!"
10:37 AM: Ravi Dahiya (FS 57kg), Deepak Punia (FS 86kg) and Anshu Malik (WW 57kg) will begin their respective campaigns on Wednesday.
10:25 AM: Khurelkhuu has lost the quarters against Taybe Yusein, ending Sonam's hopes of making a comeback through a repechage. Taybe Mustafa won the bout by a comprehensive 10-0 margin. 
9:18 AM: Sonam Malik still has a chance in repechage if the Mongolian opponent reaches the final. Sakshi Malik had also won bronze back in the 2012 London Olympics with the help of repechage rule. 
8:56 AM: Another heartbreak for India! Sonam loses her round-of-16 match. Sonam was 2-0 up for 4 minutes 30 seconds but the Mongolian came back to win the contest in the last 30 seconds. Khurelkhuu got a 2 pointer and qualifies on basis of higher move. 
8:56 AM: 2-2 as Khurelkhuu levels it.
8:56 AM (Wrestling): Sonam Malik has taken a 2-0 lead over Khurelkhuu in her round-of-16 bout! The 19-year-old has been impressive against the Mongolian. 
8:50 AM: Manpreet and Co will either face Australia or Germany in the third-place play-off. Indian men's valiant campaign might end with a bronze in Tokyo. 
8:45 AM: It's all over. India lose 2-5 to Belgium in the men's hockey semi-final. Great effort nonetheless by the Indian men's team. Their success at the Tokyo Games has certainly helped in reviving the sport. Manpreet's men still have a chance to clinch the bronze. 
8:43 AM: 5-2! Belgium score their fifth goal to extend their lead. 
8:35 AM: 4-2! Penalty stroke and goal! Alexander Hendrickx of Belgium scores another one, his fourteenth goal of the tournament. The 27-year-old completes his hat-trick to perhaps hit the final nail in the coffin. 
8:33 AM: Do-or-die situation for India now as they look to score an equalizer. 
8:31 AM: Penalty corners galore but Belgium fail to convert them. India has been pushed on the backfoot as the Belgians are attacking relentlessly. 
8:27 AM: Skipper Manpreet is back on the field after the suspension but can the Indian team level it in the final ten minutes?
8:26 AM: While India was down with 10 men, Belgium's Alexander Hendrickx, the tournament's leading goal-scorer, struck to give Belgium the slender lead. 10 minutes to go in the fourth quarter. 
8:23 AM (Hockey): 3-2! Third consecutive penalty corners for Belgium and they score! 
8:18 AM (Wrestling): Sonam Malik is also set to start India's wrestling campaign at 8:30 AM IST. She will face Bolortuya Khurelkhuu in women's freestyle 62kg Round of 16.
8:16 AM (Hockey): It's 2-2 after the end of third quarter!
8:14 AM: India's dominance in the sport -- India won seven Olympic gold medals between 1928 and 1964, losing only in the 1960 final to clinch silver. 
8:13 AM: Neither team will want to go down on a goal in this closely fought match. The pace has now slowed down a bit after the action in the first two quarters. Just a couple of minutes to go for the third quarter to end. 
8:07 AM: Bodies on the line as Belgium's organized defence denies India. Five minutes still to go in the penultimate quarter. 
8:05 AM: Penalty corner for India! Belgium asked for a referral but the decision went in India's favour. 
7:55 AM: The Story So Far: Belgium took an early lead as Luick Luypaert struck from an early penalty corner. India, however, came back as Harmanpreet Singh equalized on a penalty corner, followed by Mandeep Singh's strike in the eighth minute. Belgium's Alexander Hendrickx then scored an equalizer as the second quarter ended at 2-2.
7:50 AM: Prime Minister Narendra Modi has wished luck to Manpreet Singh's men as they look to make history in the semi-final.
7:48 AM: End of the second quarter and it is 2-2! What a contest this has been so far. The Belgians were pegged back with India's twin strikes but Hendrickx has helped them level things at the Oi Hockey Stadium. 
7:47 AM: Penalty corner for India but Harmanpreet pulling it wide on this occasion. Into the final minute of the second quarter. 
7:42 AM: Penalty corner for Belgium but brilliant work by Amit Rohidas and it remains 2-2. 
7:39 AM: The Indians have penetrated the attacking circle on 10 occasions so far. Belgians, on the other hand, have done it only six times. 
7:31 AM: ​2-2! Another penalty corner for Belgium and Alexander Hendrickx scores! Belgium needed the goal and they got the equalizer. Hendrickx scores his 12th goal of the Tokyo showpiece and he's currently leading the list of leading goal-scorers.
7:29 AM: Three consecutive penalty corners for Belgium but none of them yield results. The Indians doing everything to deny the opposition from scoring. 
7:26 AM: Meanwhile, Annu Rani has finished her qualification round with highest throw of 54.04m, finishing at the 14th spot. The javelin thrower's Tokyo Olympics journey comes to an end. 
7:25 AM: Graham Reid is telling the Indian boys to not complicate things. 'Keep it simple' and India can book a place in the final after a 41-year hiatus. 
7:24 AM: End of the first quarter and India hold on to their 2-1 lead! The first fifteen minutes have been thrilling. Three more quarters to go. 
7:20 AM: Barring the game against Australia, India have at least three goals in their matches at the Tokyo Olympics so far. Goal-scoring hasn't been a problem for the eight-time Olympic champions.
7:17 AM: Another penalty corner for India but Rupinder has been denied by Belgium's defence. The Indians have come back strongly in this match and they have threatened the Red Lions.
7:14 AM: Unbelievable scenes! With six minutes still to go in the opening quarter, both teams have already scored three goals.
7:13 AM: 2-1! Mandeep Singh scores as India take the lead within minutes. Mandeep's first goal in the tournament to put India ahead in the first quarter!
7:12 AM: 1-1! Another penalty corner for India and they score! A brilliant drag-flick by Harmanpreet Singh to level it for India. He scores his fifth goal of the Tokyo showpiece.
7:01 AM:  0-1! First penalty corner for Belgium and they score! The world champs have taken an early lead.
7:00 AM: Such a big occasion for both the teams! Four years back in Rio, Belgium had crushed India's dream in the quarters, winning by a 3-1 margin. 
6:53 AM: Indian hockey team has a rich history in the Games with 11 Olympic medals but it last clinched gold way back 1980 Moscow Games. Manpreet and Co will aim to continue its momentum and make history in Tokyo. On Sunday, India had achieved the semifinal slot by beating Great Britain 3-1 in the quarterfinals. 
6:35 AM: Men's Hockey semi-finals: India vs Belgium as Manpreet Singh and Co. aim to create history in their first medal since 1980 Moscow Olympics when they won the gold medal.
6:30 AM: Annu Rani's Olympics seems all but over as her third attempt lands a pale 54.04m again. She lies 14th at the moment among 15 throwers ahead of Croatia's Sara Kolak, who is yet to make a legitimate throw.
6:20 AM: So far, only Andrejczyk has booked the direct qualification spot followed by Australia's McKenzie in the second spot with a 62.37m throw.
6:18 AM: Annu is just left with one throw now and must find her best of abilities to book a spot in the final.
6:17 AM: Another disappointing throw from Annu, she just manages 53.19m.
6:16 AM: Annu will have to wait for her turn as Ogrodnikova's last attempt has left judges in a spot as they are going through an official check on her attempt that landed close to 60m-mark. We can hop that this should allow the track to dry up more and take that mental block away from her mind as we saw it didn't bother Andrejczyk, who went past 65 with her first throw and has already decided not to throw remaining of her two attempts.
6:10 AM: Among all legitimate attempts, Annu is last at 11th spot with a low 50.35m, she will like to change that quickly as it's her second attempt next.
6:04 AM:  Group favourite Maria Andrejczyk (Poland) wastes no time as she qualifies for the final with a throw of 65.24m. 11 spots left for Annu to qualify.
6:02 AM: Canada's Elizabeth Gleadle purposely fouls her throw by stepping over the line after her javelin landed below 50m-mark.
5:58 AM: It's important to mention that with early morning rain leaving the track wet, throwers have been cautious with their runs and not exactly unleashing themselves.
5:57 AM: Annu starts with a poor throw of 50.35m but early days in the event. The World No. 13 has two more attempts to find that 63m throw.
5:56 AM: Ogrodnikova starts with a foul, Annu Rani is next.
5:52 AM: Australia's McKenzie Little comes the closest to direct qualification among the first three throwers with a throw of 62.37m throw.
5:48 AM: There are plenty of competition in place for Annu in the event with the likes of Poland's Maria Andrejczyk (season-best of 71.40m), China's Lyu Huihui ( SB 66.65m), Czech Republic's Nikola Ogrodnikova (SB 65.13m) among favourites to win the group and seal a direct spot.
5:40 AM: Just 10 minutes to go for the action 
5:38 AM: The norm has been that the best athletes are kept in Group B so Annu Rani won't be like to take chances in the three attempts she will have to breach the direct qualifying mark of 63m. 
5:33 AM: This effectively means Annu Rani will have to throw close to her national record (63.24m) to book a direct spot in the final. And as mentioned below, it's not something she hasn't done before; most recently at the 2019 World Athletics Championships.
5:30 AM: To update you on the rules for qualification in Group A (of 15 throwers) of the women's javelin throw, throwers will have to hurl 63m and above to earn direct qualification (denoted as Q) for the 12-athlete final while an alternate route to qualification is through the best 12 performers of both the groups (A and B) combined (denoted as q).
5:23 AM: Annu is definitely among the favourites to reach the final yet again as she found her best form at the end of June to post a new national record during the National Inter-State Championships in Patiala.
5:20 AM: Annu Rani is surely a name to watch out for as she has been among consistent performers of Indian athletics in this Olympics cycle. While many Indian athletes have often failed to peak at major tournaments, the 28-year-old track and field athlete improved on her national record at the 2019 World Athletics Championships to book her spot in the final. 
5:15 AM: Women's Javelin Throw qualification for Group will start at 5:50 AM. India's national record holder, Annu Rani, has a personal best and season-best throw of 63.24m. Among the notable participants in her group include Rio gold medallist Sara Kolak, who has 68.43m.
5:12 AM: Hello and welcome to the Live coverage of Day 11 of India's action at the 2020 Tokyo Olympics. Tuesday will see India finally opening their campaign in wrestling with 19-year-old Sonam Malik in women's 62kg round of 16 bout. If she goes through to the next round, the quarterfinal will be on the same day. However, the cynosure of Day 11 will be the men's hockey team, who will be up against world champions Belgium for a place in the final and assuring themselves of a first-ever Olympic medal since the 1980 Moscow Games. India will also have two track and field athletes on Tuesday - Annu Rani in javelin throw and shot putter Tajinderpal Singh Toor. Here's all you can expect from the Indian contingent on Tuesday, August 3.