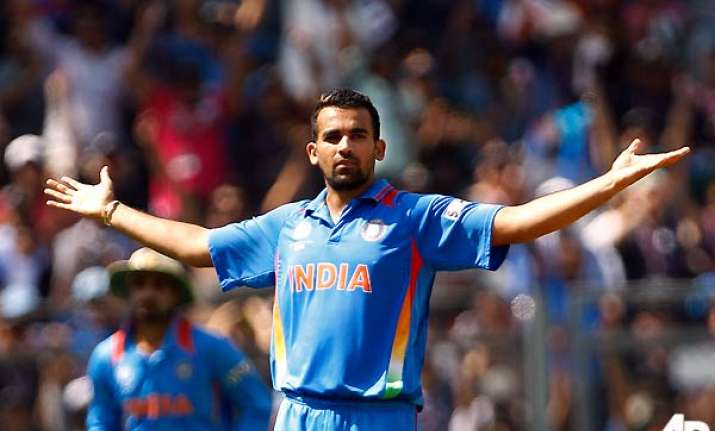 Pune, April 5 :  Team India pacer Zaheer Khan's parents  have made up their mind to get their son married as soon as possible, reports Pune Mirror.

Zaheer's parents are on top of the world as their son has made them proud by winning the ICC cricket World Cup. Also, their joy has doubled by the fact that he equalled Pakistan's Shahid Afridi as the highest wicket-taker.

Now, they want their superstar son to get on with the business of life. For them, he has achieved everything in life and now their only wish is to see him married. "This is the right time for Zaheer to get married," mother Zakiya Khan told Pune Mirror.

Zaheer's parents returned to Pune from Mumbai on Monday after celebrating the Indian team's win over Sri Lanka in the final of the world cup. Father Bakhtiyar Khan and Zakiya are on top of the world that their son was able to fulfil a billion dreams.They now want him to fulfil their one dream by getting them a bride.

 "We had talked to him about his marriage in 2007, but at that time he brushed it aside saying he wanted to concentrate on cricket. So, we gave him time. But now he has achieved everything in cricket. He has become India's prime bowler. The only thing left was a World Cup and that is also in his kitty now, and it's a big bonus that he finished as the highest wicket-taker. Now he can't make any excuses and should get married," Bakhtiyar Khan told Pune Mirror.

"This is the right time for his marriage. We have given him the freedom to find a girl for himself but he should get married within a year," Zaheer's mother said, echoing her husband's words.Zaheer's parents were at the Wankhede Stadium on Saturday to see their son in the final of the World Cup.

"In 2003, we could not go to South Africa to watch the final between India and Australia. But this time, after beating Pakistan in the semi-final, Zaheer told me that we have to be at Wankhede to watch India lift the trophy. After the match, we rushed to the ground. Zaheer hugged both of us and said 'Yes, we did it'. There were tears of joy in our eyes and we will cherish the moment for the rest of our lives," Bakhtiyar said.

The Khans could not sleep the whole night as they could not believe Team India had become the world champion. Even while watching the match live, they were tense.

"There was tension when India lost the toss and Sri Lanka elected to bat first. But Zaheer bowled a superb opening spell. Bowling three maiden overs in one's first spell is no joke. I could see that the Lankan batsmen were scared of facing Zaheer," the proud mother said.In 2003, Zaheer had bowled the first over in the final against Australia and had conceded lot of runs.

 But according to Zaheer's father, he has matured quite a lot as a bowler since then. "In the 2003 final, Zaheer had a lot of pace but he did not have the experience. This time, it was exactly the opposite: he has lost some pace but the experience has made him a better bowler," he added.

Zaheer's family is from Shrirampur, a small town in Ahmednagar district. Zaheer did not have any cricketing background, but wanted to become a cricketer. His father supported him and came to Mumbai where he met the master blaster Sachin Tendulkar. "In 1997, when Zaheer joined a cricket club, he used to bowl to Sachin in the nets. The batting legend saw talent in my son and started guiding him. Now, Sachin has become his guru and has even taught him some batting," Bakhtiyar said.

Bakhtiyar also hinted that Zaheer may eventually nurture pace talent. "Now Zaheer has the experience and he should use it to teach children the art of fast bowling," he said.