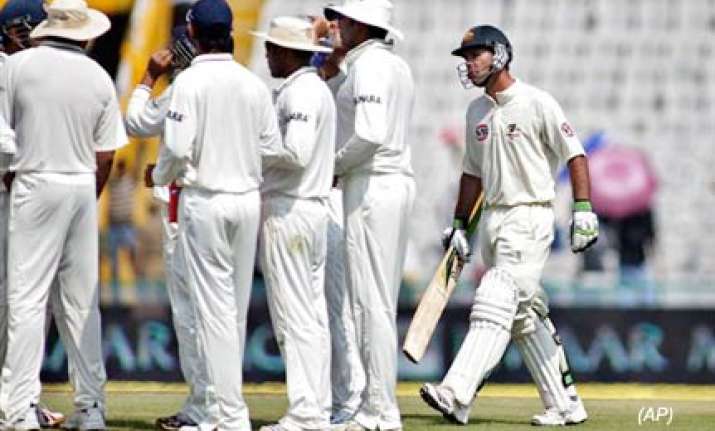 Mohali, Oct 1: Sparks flew on the opening day of the first India-Australia cricket Test with Ricky Ponting and Zaheer Khan having a on-field showdown which prompted the match referee to summon the Indian pacer after the end of day's play.
The incident occurred in the 42nd over which was being bowled by Harbhajan Singh.
All-rounder Shane Watson pushed the fourth ball of that over towards mid-wicket and called Ponting who was batting on 71 for a quick single.
Before the Australian skipper could make his ground,
Suresh Raina
's direct throw hit the stumps.
After third umpire Sanjay Hazare adjudged him run-out, Ponting was walking back towards the pavilion when he turned back after hearing some comments from Zaheer.
With the Indian players standing in a pack, Ponting walked back towards them pointing the bat at them when he was intervened by Billy Bowden. Good sense prevailed after that and he walked back to the pavilion.
Match referee Chris Broad summoned Zaheer at the end of the day's play and had a word with him but according to team official Mayank Parikh, it was just a "friendly interaction" and there was no official caution or fine as such.
 Australian opener Shane Watson, who came at the media conference after the day's play, was forthright in stating that it was Zaheer whose remarks escalated the tension.
"I didn't know what happened in the middle. Only later I saw the footage. It was Zaheer who came out of the huddle and his remarks escalated the incident. Ricky is not someone who will go out there to pick up a fight. He reacted only after something was said. We know what's the line we shouldn't cross," Watson.
India spinner Pragyan Ojha, however, sought to play down the issue.
 "It often happens when you are competitive. There are times when words are exchanged," Ojha told the reporters.
Interestingly, yesterday at the pre-match media conference, Ponting had said that he doesn't want any negativity or bad blood during the series as world cricket is still suffering in the wake of spot-fixing controversy involving the Pakistan trio of Mohammad Asif, Mohammad Aamir and Salman Butt. PTI