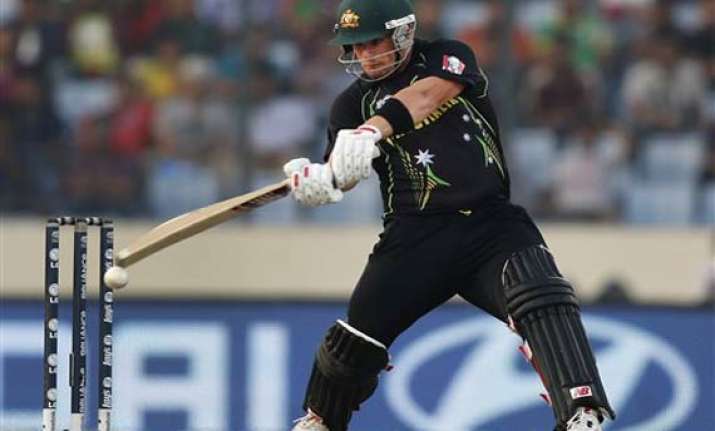 MIRPUR, Bangladesh: Scoreboard Tuesday after Australia defeated Bangladesh by seven wickets in Group 2 at the World Twenty20:
Bangladesh
   Tamim Iqbal c Bollinger b Coulter-Nile 5
   Anamul Haque c Watson b Coulter-Nile 0
   Shakib Al Hasan c Maxwell b Bollinger 66
   Mushfiqur Rahim c Maxwell b Watson 47
   Mohammad Mahmudullah not out 6
   Nasir Hossan b Starc 14
   Extras: (2b, 4lb, 7w, 2nb) 15
   TOTAL: (for 5 wickets) 153
   Overs: 20   
Fall of wickets: 1-4, 2-12, 3-124, 4-133, 5-153.   
Did not bat: Mominul Haque, Sohag Gazi, Abdur Razzak, Al-Amin Hossain, Taskin Ahmed.   
Bowling: Mitchell Starc 4-0-25-1 (2w), Nathan Coulter-Nile 3-0-17-2 (2w), Doug Bollinger 4-0-31-1, Shane Watson 4-0-25-1 (1nb, 3w), Glenn Maxwell 3-0-32-0 (nb1), Daniel Christian 2-0-17-0.
Australia
   Aaron Finch c NHossain b AHossain 71
   David Warner b AHossain 48
   Cameron White not out 18
   Glenn Maxwell b Ahmed 5
   George Bailey not out 11
   Extras: (3lb, 2w) 5
   TOTAL: (for 3 wickets) 158
   Overs: 17.3   
Fall of wickets: 1-98, 2-135, 3-147.   
Did not bat: Shane Watson, Daniel Christian, Brad Haddin, Mitchell Starc, Nathan Coulter-Nile, Doug Bollinger.   
Bowling: Sohag Gazi 4-0-35-0, Al-Amin Hossain 3.3-0-30-2 (w1), Shakib Al Hasan 3-0-36-0, Taskin Ahmed 4-0-24-1 (w1), Abdur Razzak 2-0-16-0, Mominul Haque 1-0-14-0.  
Result: Australia won by 7 wickets.   
Toss: Bangladesh.