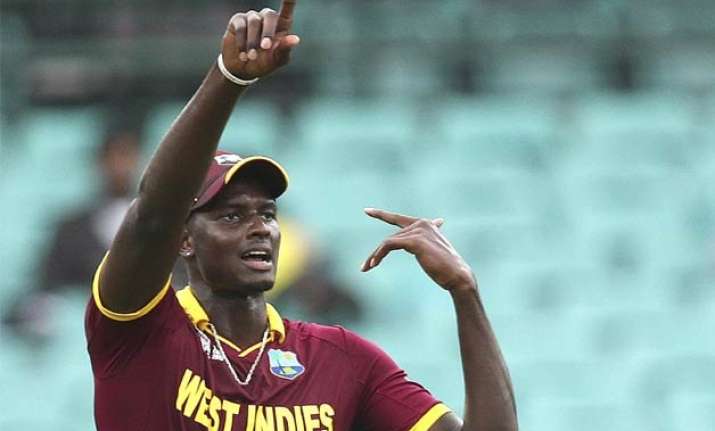 West Indies Skipper Jason Holder spoke to media after the team's training session at Hagley oval in Christchurch on Friday. West Indies is playing against Pakistan in their second World Cup match on Saturday. He spoke to the media persons on the various issues related with the team and World cup. Here are the excerpts:
Q: Is captaincy becoming a burden for you and is affecting your bowling?
Holder: It's not a burden on me. I'm enjoying it at the moment, just trying to do my best for the team. I had a pretty decent series with the ball against South Africa. Thus far here, haven't take a wicket yet in this last game, but I'm in very good spirits and very comfortable with everything at the moment.
Q: How is the mood in the camp after the shocking loss to Ireland in the openinug fixtre?
Holder: If we get ourselves down, it's hard to pick ourselves back up, so we have just tried to keep the mood going. We've obviously addressed a few issues, which we have. We didn't bowl particularly well in the last game, so that's a big concern for us, so we're just trying to correct things here in these next -- well, at least today and yesterday in terms of our preparation, just going into tomorrow's game with full confidence.
 Q: Will Sulieman Benn and Darren Sammy play in the match against Pakistan?
Holder: "Well, obviously Benn missed our last game two days back soreness. Sammy has been fighting through it. We've gotten Benn to a stage where I think he's going to be a lot better off than what it was in the first game against Ireland. Tomorrow we should have a full complement to choose from".
Q: Do you look at this clash as a clash of equals - both teams can be mercurial one day and very mediocre the next. And bowlers from both teams are struggling with fitness?
Holder:  "It's a very good question. Obviously we both haven't been playing up to our potential, and we've lost a few players. I'm sure it should be a very entertaining game, and I guess whoever executes their plan better on a given day will come out on top of the game."
Watch Video: