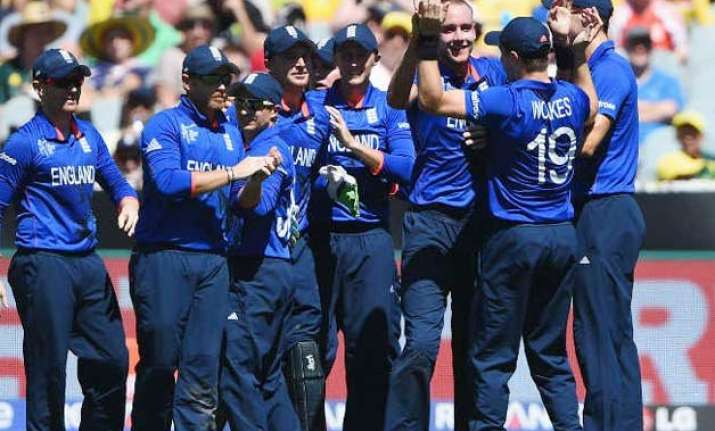 Wellington, New Zealand: England hopes it can vanquish memories of its last disastrous encounter in Wellington when it plays Sri Lanka on Sunday in a Pool A match that's become important to the Cricket World Cup quarterfinal chances of both teams.
A week ago, England lost at the so-called "Cake Tin" stadium in one of the most lopsided matches in its history. It managed to score just 123 runs against New Zealand, which smashed its way to victory in 12.2 overs for the loss of two wickets, and that came after a big loss to Australia in its opener.
Sri Lanka, meanwhile, wants to keep the momentum going in its World Cup campaign after it bounced back from an opening loss to New Zealand to beat Afghanistan and Bangladesh.
But neither side has managed to beat a top team yet, and a loss for either could seriously dent its chances in the tournament.
Whichever side loses could find itself in the position of scrapping with Bangladesh just to make it to the quarterfinals. Even a fourth-place finish in a pool that includes favorites New Zealand and Australia would mean a quarterfinal clash against the top team from the other side of the draw, which could be India or in-form South Africa.
England bowler Chris Woakes said he felt it had a good chance to turn around its fortunes in Wellington.
"Obviously the last time we were there it didn't exactly go to plan," he said. "It's hard to read too much into that game, I suppose. We were pretty poor. We obviously didn't get a total on the board, and Tim Southee bowled exceptionally well."
He said that was now in the past, and his team has beaten Scotland since.
"It would be good to get back there and show people what we can do," he said.
Sri Lankan coach Marvan Atapattu said England had a good lineup and that any of its top seven batsmen could inflict fear into an opposing team while its seam bowling attack was strong.
"It's just that I don't think they can be very happy about how things have unrolled for them in the recent past," he added.
Atapattu said Sri Lanka's last two wins had been good for the team's confidence, even though its game against Afghanistan was uncomfortably close.
"We know in World Cups every game is important, and peaking at the right time is the most important thing," he said.
He said the team took confidence from victories over England in recent months, including a one-day series played at home that Sri Lanka won by five games to two.
Those wins gave Sri Lanka a slight edge over England in what has been a close rivalry over the years. The two teams have played a total of 63 ODIs with Sri Lanka winning 33 and England 30.
England will hope opener Moeen Ali can continue his form after scoring 128 against Scotland. It will also hope Steven Finn bowls like he did against Scotland, when he took 3-26, rather than how he did against New Zealand, when he was smashed for 49 runs off two overs.
Sri Lanka will look to two of its batsmen — Tillakaratne Dilshan is averaging 92.5 in the tournament while Kumar Sangakkara isn't far behind, with an average of 75.5 and a strike rate of 119.
Sri Lanka elected not to practice Saturday after a tough recent schedule that saw the team travel from New Zealand to Australia and back again in the space of a few days. England, meanwhile, had most of the week to rest up and practice following its win last Monday over Scotland.