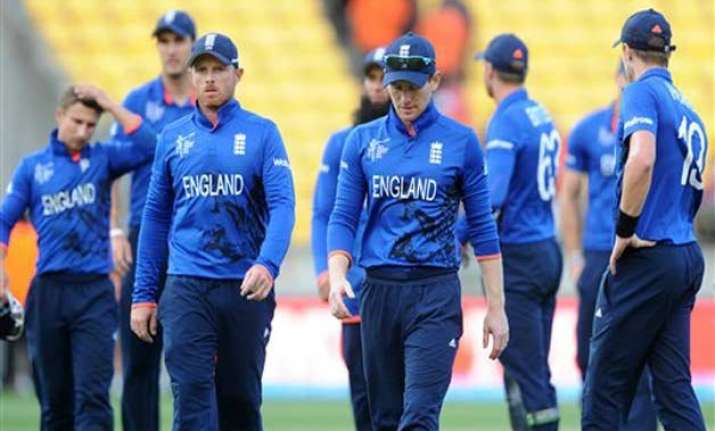 Wellington, New Zealand: After its third loss to a top-tier team at the Cricket World Cup, England now faces the uncomfortable prospect of a sudden-death match against Bangladesh in which the winner will likely progress to the quarterfinals.
England's poor run continued in Wellington on Sunday when it was easily beaten by Sri Lanka, which cruised past its total of 309 with nine wickets to spare, thanks to unbeaten centuries by Kumar Sangakkara (117) and Lahiru Thirimanne (139).
Read Also: World Cup 2015: Sangakkara, Thirimanne tons help SL trounce England by 9 wickets
That followed England's opening 111-run loss to Australia and a trouncing by New Zealand, when it managed to score just 123 runs and the Black Caps blasted their way to victory in 12.2 overs.
England put up a better performance against Sri Lanka, built on Joe Root's 121. But it was barely a par score on a flat wicket, and its bowling never threatened.
England has managed to secure just two points from four matches in the World Cup, its sole victory against lowly Scotland. Bangladesh is currently ahead on the points table, after a win against Afghanistan and what was probably a lucky break when its match against Australia at Brisbane was rained out.
The way that Pool A is shaping up, it appears New Zealand, Australia and Sri Lanka will progress to the quarterfinals with the remaining spot being decided when England meets Bangladesh in its next game on March 9 in Adelaide.
England, which would also need to beat Afghanistan in its final game to progress, lost against Bangladesh in the previous World Cup in India. In all, the teams have met 15 times, with England winning 13 games and Bangladesh two.
England captain Eoin Morgan said he's not contemplating the possibility of getting eliminated before the knockout stages.
"It's not even a thought at the moment," he said. "Two games to win to get us into a quarterfinal."
But he did say the losses were troubling.
"Losing any game is always a concern," he said. "Over the next few days we'll ... have a sit down with the backroom staff, and debrief the game, and see where we've gone wrong and how we can get better."
Morgan said he thought its batting performance against Sri Lanka was competitive, making the loss tougher to take. But he said its fielding and bowling needs to improve after it dropped several catches and allowed Sri Lanka easy runs with bad balls almost every over.
"Have we been too predictable?" he said. "You look at the best sides, the best bowlers, and they're predicted to be good. When we're firing, we are predictably good."
Even for the winner of England vs. Bangladesh, it will be a tough path to progress further in the competition. Whoever secures the fourth place in Group A will face the top team from the other side of the draw, likely India or South Africa.
Morgan said the team can win games. "It's not out of our reach or a million miles away," he said. "It's just continuing to reproduce the simple things consistently."