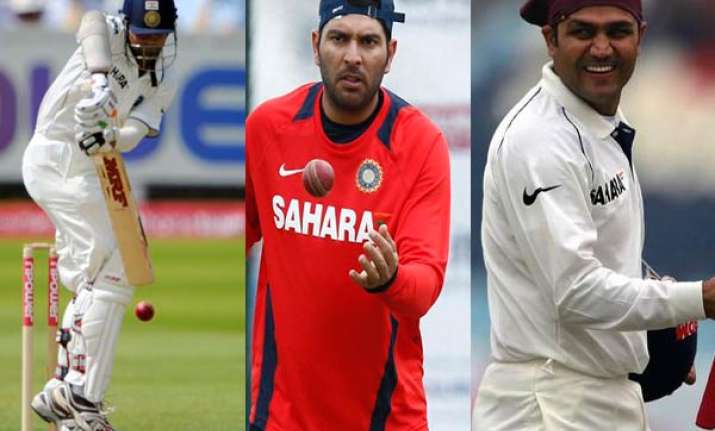 Northampton, Aug 5 : West Indies pace legend Michael Holding has questioned the commitment of younger players in the side, blaming the Indian Premier League (IPL) for a drastic shift in their priorities. 

"I don't think the current Indian team is bothered about the defeat in the first two Tests. My only concern is -- are they giving any extra effort, or playing like 'supposed' world champions? Even after the Lord's debacle, the answer is a clear no! That's because, they will get more money to play in the IPL," said Holding, now a commentator for Sky Sports.

Holding also wondered why most Indian players underwent surgeries and rehabilitation after the IPL, despite the tour of UK in close proximity. "Why does anyone not get injured before the IPL, you tell me."

"That's because they are getting huge amounts of money (in IPL). Why would they bother about international commitments?" he asked.

It may be recalled that the likes of Virender Sehwag and Gautam Gambhir aggravated their injuries during the IPL owing to impending surgeries that they delayed.

Even S Sreesanth, Zaheer Khan and Yuvraj Singh played the entire IPL but did not travel to West Indies due to various injuries and to undergo rehabilitation at the National Cricket Academy (NCA).

Holding reckoned the younger players in the Indian side were prioritising IPL ahead of international cricket.

"Except for Rahul Dravid, Sachin Tendulkar and VVS Laxman, nobody else in this team seems to be worried about the reputation of the country or of Test cricket. I am sure they are all aware about Test cricket, but are not bothered," said Holding.

Holding further attacked the quality of Indian batsmanship. "If IPL was to be organised in a country like South Africa or Australia, where the ball seams and bounces, the Indians would again crumble. However, if the ball is pitched beneath knee-level, like it is on Indian pitches, they will murder the bowling," said the 57-year-old.

Holding welcomed the inclusion of Virat Kohli in the Test squad. "I told you all along that Virat should have been part of the squad. If three out of the six batsmen (Abhinav Mukund, Yuvraj and Suresh Raina) have problems against short-pitched bowling, you cannot manage?" he said."I do not have a problem if these Indian youngsters are multi-millionaires. But they are not good enough for Test level. And that's what counts," concluded Holding.