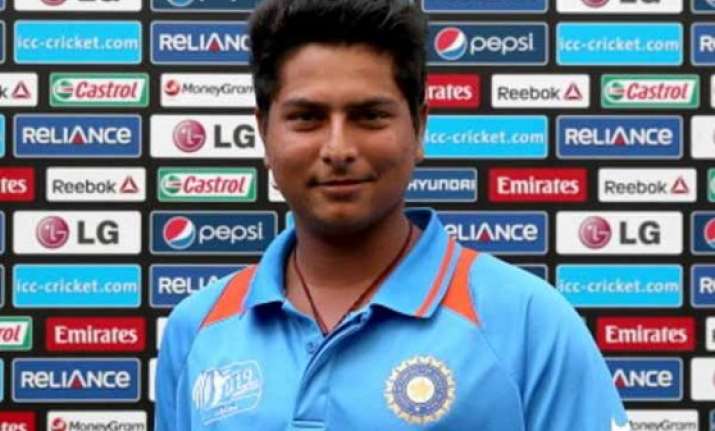 Kanpur: He was heartbroken when Uttar Pradesh team management did not find him fit to be considered for playing XI in Ranji Trophy but after his maiden entry into the national ODI squad, rookie chinaman bowler Kuldeep Yadav wants to move on from that bitter episode of last season.
"Today is the day when my parents have been rewarded for the amount of sacrifices they made to make me a cricketer. I was disheartened and completely broken when UP management didn't find me good enough to play Ranji Trophy. My parents and childhood coach consoled me a lot at that time. I started working harder and today, I am in the Indian team," Yadav said.     
Recently, Sunil Gavaskar in his column, praised Yadav's performance in the ongoing CLT20.
"When Gavaskar sir praised me, it boosted my confidence and I felt like putting twice as much effort as I have been putting now. I feel as if I am living a dream right now. I never knew that at the age of 19, I will be playing for senior India team," said Yadav.
Yadav's father Ram Singh Yadav is an owner of a brick kiln and they live in a rented apartment having shifted from their native village in Unnao so that his talented son could pursue his dreams.
"Kuldeep's talent came to light when I admitted him to a coaching camp. Once I knew that he was destined for bigger things, I decided to shift from Unnao to Kanpur, where there are better cricket coaching facilities. We live in a rented apartment here. Today me and my wife's sacrifices have bore fruit," Ram Singh was teary-eyed as he spoke.
UPCA president Rajeev Shukla congratulated the young spinner and his family on his selection in the Indian team.
"This is great news for UP cricket that another of our talented boys has been selected in the national team. I am confident that Kuldeep will perform well for the country just like Suresh Raina and Bhuvneshwar Kumar," Shukla said.