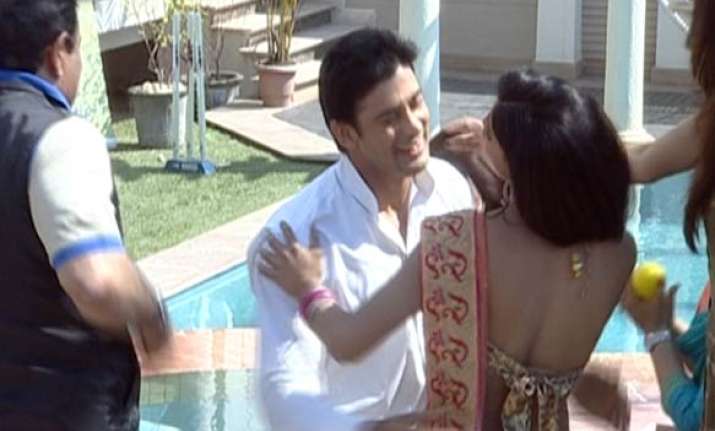 Wrestler Sanjit Kumar alias Sangram Singh is geared up to take the challenges that will be thrown at him in "Bigg Toss" – a spoof on the reality show "Bigg Boss", reports Times of India.
The show has 14 house guests who are divided into two teams. And the person who comes first gets a car worth approximately `15-20 lakh.  
With reality TV biggies like Rakhi Sawant and Veena Malik also participating in "Bigg Toss", Sanjit has enough reasons to play the game shrewdly. 
 "The show adheres to the public voting system and I'm sure that I will earn maximum votes. For, people know me the way I am. I don't have to pretend to be someone else. As far as Veena and Rakhi are concerned, both are terrific.  
"Irrespective of how they have been projected, I believe they are great people. I haven't been able to interact much with Rakhi because she is in the opponent's team. With Veena, it has been a friendly bond, so far. 
" Shooting ke baad bhi achche dost ki tarah baeth ke baat karte hain. She even hugged me and sent me a flying kiss. I hope this doesn't create any controversy," he laughs.
And with cricket fever gripping the nation, Sanjit tells us he won't miss any match. 
 "I will make sure i don't miss out on any match. Like any kid, i too aspired to become a popular cricketer. Mujhe bhi yeh sport achcha lagta tha kyunki is mein ek jagah se hi saare shots maarne hote hain. Lekin jahan se hum ayein hain, wahan pe cricket ki itni pahunch nahin thi. But I'm extremely proud to be a wrestler." 
 Does he admire anyone from the Indian cricket team? "Sachin Tendulkar! There is so much to learn from him. He has achieved everything and broken several records, but he is still so humble. And that's the quality in him, I appreciate the most. There is a lot we can learn from Sachin. He rocks!"