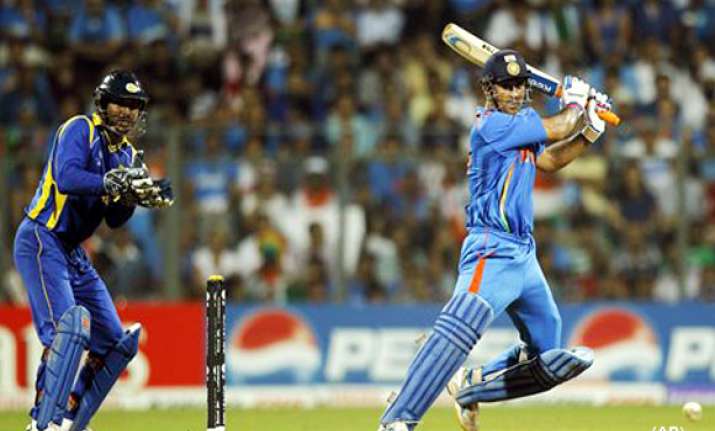 Mumbai, April 3 : "India owed their second World Cup to their magnificent batsmen. Their two finest - Sachin Tendulkar and Virender Sehwag - did not score 20 between them, yet the remaining Indian batsmen knocked off the runs with six wickets and ten balls to spare in the highest successful run-chase that any of the ten cup finals has seen", writes  Scyld Berry for The Daily Telegraph.
Berry writes: "The weight of expectation on India was enormous - from the outset of this tournament they have been the favourites - but they followed the example of their captain Mahendra Singh Dhoni in withstanding it. If Brazil win a football World Cup at home, they will have a small and silent fan-base compared to the Indian cricket team last evening and their 1.2 billion home supporters.

"Sri Lanka were handicapped by dew when they bowled towards the end of India's innings, and by the absence through injury of their brilliant young batting-allrounder Angelo Mathews, which precipitated four changes to their semi-final team that rather weakened their bowling. Even so, for India to chase down 275 with quite a lot in hand was a superlative effort.

"The first time that India won the World Cup, in 1983, their players were given plots of land by the government and practically deified.

"When India won the inaugural World Twenty20, their team bus was brought to a standstill by millions – literally – thronging Marine Drive, outside the Wankhede stadium where they won last night. But these will be minor celebrations by comparison with winning this World Cup on home soil.

"India's joy made for a sad last international match for Sri Lanka's mystery spinner Muttiah Muralitharan, not to mention for Mahela Jayawardene. The latter scored a century of almost sublime beauty, only to see it outweighed by Gautam Gambhir and Dhoni in their partnership of 109.

"It was the sixth century in a World Cup final, but the first for a losing side.

"Muralitharan began auspiciously, fizzing the ball up into his left hand as he started his run-up, scrambling the seam and maybe the batsman's senses too. But after bowling his first four overs for ten runs, the magic and fizz began to fade. When he dropped short, Dhoni's square-cut almost gave the ball whiplash.

"Dhoni had made few runs before in this World Cup – the only sign that the unrelenting demands were having some effect – but he was superb all round yesterday in every way, except for presiding over such a slow over-rate that Sri Lanka's innings took more than four hours.

"For in addition to marshalling the run-chase, he had to overcome the disappointment of apparently winning the toss, only to be told to do it again and losing it. Lesser personalities would have been flustered, but not Dhoni.

"Then shortly after the controversial toss, it became apparent that he had a serious problem, called Sreesanth. The low-trajectory and highly-strung medium-pacer had been taken apart by Bangladesh, of all countries, in the opening game of the World Cup and had not played since.

"Fairly predictably, two of Sreesanth's allotment of overs had to be bowled by someone else: Tendulkar, which brought the house down, or maybe this home-town stadium should be called his temple. Dhoni's resourcefulness was further tested when Yuvraj Singh's left-arm spin was initially expensive, so that suddenly he only had three specialist and reliable bowlers.

"Sri Lanka were never going to be bowled out, but Dhoni stopped them running away with it, and India took key wickets when Sangakkara edged a cut, and Samaraweera was leg-before after a review, and Kapugedera was suckered by Zaheer's slower ball.

"But Jayawardene is not only the most beautiful righthanded batsman of his age, he is also one of the most effective. A well-balanced batsman can clip through mid-wicket; Jayarwadene not only clips the ball but polishes it too. Old-timers deplore the disappearance of the late-cut, but in Jayawardene's hands the stroke is not extinct: even on a slow pitch he still beat third man.

"His big match temperament should not be underestimated either. Even when he was playing Under-13 inter-school cricket, Jayawardene is said to have attracted hundreds if not thousands of spectators to watch him bat.

"The combination of inner strength and skill allowed him to score at a run a ball without any high risk, before launching the final assault with wickets in hand.

"Sri Lanka left their batting powerplay for their last five overs and hit 63 runs. When Jayawardene raced to his 100, the press box burst into applause, a rare breach of convention but one that was to be repeated soon, in praise of Dhoni. Before then Jayawardene's reward was to sit back and watch powerful lefthanded slogs that brought 22 from the nine balls that Thisara Perera faced.

"It was Gambhir who brought India's run-chase alive after Malinga's opening attack had India reeling. He has lived in the shadow of Tendulkar and Sehwag but at the crucial moment he burst forth with 97 from only 122 balls, attacking the pace and spin bowlers with equal flourish – except that it was against Dilshan's offspin that the crucial moment came and Gambhir, on 30, was dropped at long-off by Nuwan Kulasekara diving forwards.

"Gambhir brought India back into the game in the company of Virat Kohli, then began to take it away from Sri Lanka in his stand with Dhoni.

"Run-chases of any size had been insuperable before in World Cup finals, but in the age of fitness training and 20-over cricket, batsmen can score quickly as well as bat for a long period.

"Sri Lanka, having had the strongest bowling attack at the semi-final stage, rather went backwards by including two moderate medium-pacers instead of two specialist spinners, Rangana Herath and Ajantha Mendis. Malinga and Muralitharan, at least until Dhoni got after him, held some threat, but the rest were pulped.

"Dhoni rounded the final off, and unleashed the fireworks, with a shot worthy of the occasion – a pull-drive that sent the ball over wide mid-on and into the admiring hordes. He was rightly the man of the match, for what he had been through and yet come out triumphantly.

"It was also a great night for Tendulkar, who did not make his 100th international hundred but who was carried around the outfield at the finish on the shoulders of his adoring teammates. 'The proudest moment of my life,' Tendulkar called it, after a career that has given no cricketer since Don Bradman more cause for pride", Berry concludes.