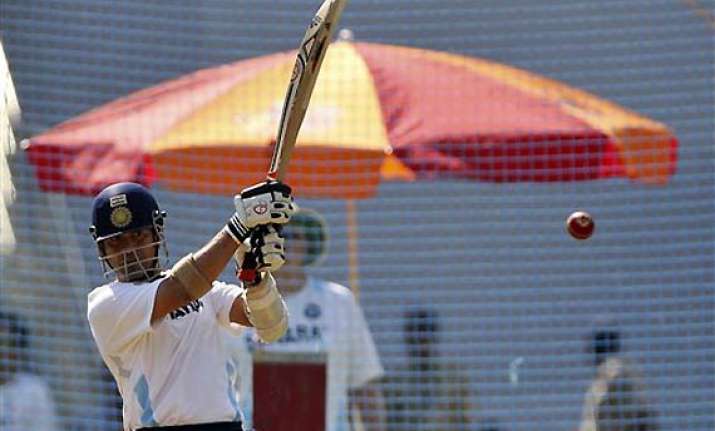 Mumbai, Nov 21: Sachin Tendulkar returns to his home venue for the final test against the West Indies starting on Tuesday amid the familiar pressure of expectation of hitting another century.

A century at the Wankhede Stadium this time around would be extra special because it would be his 100th international ton, which Tendulkar has been chasing since the World Cup earlier this year.

Tendulkar moved from 97 to 99 centuries during the World Cup in February and March but has been unable to get another three-figure mark since, with a score of 91 against England in the Oval test in the summer coming the closest.

But Tendulkar, who is the highest run-scorer and century-maker in both tests and one-dayers, has dismissed the landmark as "just another number."

"When I got my 90th international century, nobody said anything," Tendulkar was quoted as saying by Mid-Day newspaper on Saturday. "Even before my 99th century, nobody said anything. So why now? I don't understand."

Tendulkar, who completed 22 years in international cricket last week, said he knew people were getting impatient.

"I know everyone is talking and thinking about my 100th century. I want to be relaxed and let cricket decide its own course. I am not rushing into anything, just concentrating on my normal game," he said.

But the Mumbai Cricket Association has decided to make it a special occasion by announcing it will present Tendulkar with 100 gold coins if he gets to the unprecedented landmark this week.

The state association has also lowered the price of tickets, which start at $1 per day, in a bid to get spectators to the ground after dwindling attendances in recent games across India.

Tendulkar potential landmark is a popular talking point in India and players from all sides are regularly asked for comment.

West Indies captain Darren Sammy suggested on Monday that he would rather watch Tendulkar get the ton after this series.

"Much as I would like him to get a century, I would like to see him do it against some other team on television," he said. "I will be the first to jump up in joy when he gets there if it is not against us."

Senior India batsman V.V.S. Laxman said the way Tendulkar prepares for every game sets him apart.

"His preparation is special in each and every match," Laxman said Monday. "That has been the hallmark of Sachin and why he has done well for so many years."

Laxman said Tendulkar's approach always remains the same.

"He takes every practice session seriously, irrespective of whether he is reaching a milestone or not, to make sure he is ready, mentally and physically. He has survived for so long and has been a true match winner for the country," he said.

Capain Mahendra Singh Dhoni declined to speculate and said plans for the celebration of Tendulkar's 100th century will firm up only after Tendulkar reaches the landmark.

"Let him get to the century and then we will decide how to celebrate it," Dhoni said at the beginning of the series against West Indies.

Tendulkar's top score in the series has been a knock of 76 in the first test in New Delhi, which India won by five wickets.

India subsequently won by an innings and 15 runs to take a decisive 2-0 lead in the three-test series, which will be followed by a series of five one-day internationals.