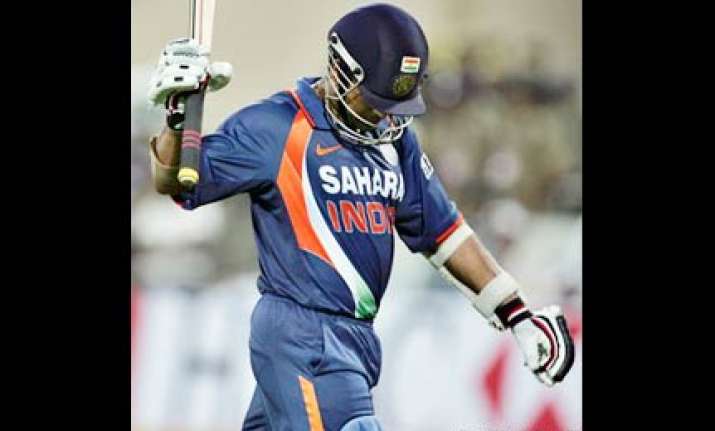 Describing his epic knock of 175 against Australia as one of his best innings, Sachin Tendulkar said his effort would have been even more satisfying if it could have guided the team to victory in the pulsating fifth one-dayer. 
Tendulkar's 45th one-day century, a rollicking 141-ball knock, almost pulled off a great win for India on Thursday but the lower-order batsmen could not score the required 19 runs from 17 balls. 
"We started off very well, there was a good partnership between Suresh (Raina) and me at one point of time. But we lost few crucial wickets and also the game itself. So it's disappointing at the end of the day," Tendulkar said after the match which India lost by just three runs in Hyderabad on Thursday.  
On being asked if he would rate this century as one of his best knocks, he said, "Ya, sort of. I was hitting the ball well. It was one of my best knocks." 
Tendulkar said it is his passion to play for the nation that has inspired him to perform consistently for 20 long years ever since he made international debut in 1988 as a 16-year-old boy 
"It's the passion of representing India in international cricket that keep me motivated all the time. It's always a dream to play for my country. I am absolutely honoured to do that for the last 20 years," Tendulkar said. 
Tendulkar also praised young left-hander Suresh Raina, who scored a run-a-ball 59 to support him well from the other end as they shared a 137-run fifth wicket partnership which was instrumental in bringing India close to win. 
"Suresh is a terrific talent. We were trying to push the game as close as possible. We were chasing a big target, there was constant pressure on us, but we managed it well to bring the match quite close," Tendulkar, adjudged Man-of-the-Match for his magnificent knock, said. 
Rivals captains -- Mahendra Singh Dhoni and Ricky Ponting --  also showered encomiums on Tendulkar for his blistery knock. 
Dhoni said though this was another special innings by Tendulkar, his personal favourite still remains the one he produced in Sharjah against Australia in April 1998. 
"It was a pleasure to see him batting so well. All his centuries have been special and this too. But I am still a big fan of his desert storm (innings)," he said. 
"It's one of the best knocks I have seen. Sachin was playing beautifully today. And I think, the wickets was also great here and enthusiastic crowd all around as well," Ponting said. PTI