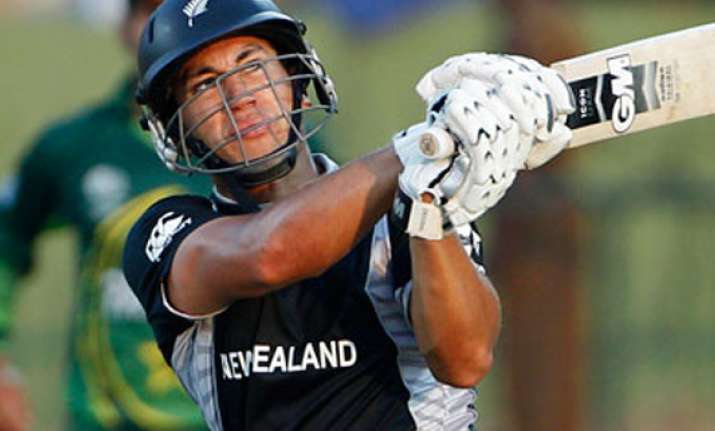 Hobart, Australia, Dec 8: New Zealand skipper Ross Taylor is urging his batsmen to be more disciplined and to force the young Australian bowlers to work harder for their wickets in the second test following a lopsided defeat in the series-opening match last week.

The inexperienced Australians picked up some cheap wickets in the nine-wicket victory at the Gabba as the aggressive New Zealand top order chased deliveries outside off stump and lacked the application required to build a test innings.

The 21-year-old James Pattinson, one of three Australians making their test debuts, was the main recipient, with 5-27 in the second innings, including three wickets in four balls which triggered New Zealand's collapse on the final morning and left Australia needing only 19 runs in four sessions to win.

The second test starts Friday at Hobart, where Australia has never lost in nine test matches at the venue.

"We're trying to keep it as upbeat as possible," Taylor said Thursday. "Obviously we were very disappointed with the performance we put in and everyone's hurting and we are disappointed with the performance we put in for the fans back home.

"We have to be more consistent and as a batting unit we need to be able to leave outside the off-stump and let them bowl at us. A lot of the deliveries the Australians weren't hitting the stumps yet they got us out — me included."

Taylor was out in each innings to Pattinson, who was flayed for three boundaries in the first over of the Brisbane match by Brendon McCullum and struggled to find his rhythm in the first innings.

He bowled with pace and bounce in the second innings, removing McCullum first and then coming back the next morning to polish off the top order to earn man-of-the-match honors.

Australia retained the same starting XI, opting not to bring allrounder Daniel Christian into the mix at the expense of a specialist batsman. That means opener Phil Hughes gets another chance to convince selectors that his ability to score runs outweighs the technical deficiencies which critics have pinpointed in his batting style.

New Zealand is also expected to start with the same XI, with Taylor urging them to salvage some pride in Hobart. The Australians have never lost a test in Hobart, but have twice drawn against New Zealand in tests at the island state's capital.

After posting back-to-back half centuries to prolong his test career, ex-Australia Ricky Ponting is really hoping there's no place like home to help him end a drought.

Ponting, who will turn 37 later this month, hasn't scored a century in 29 innings since his 209 against Pakistan at Hobart in January 2010. His spot in the lineup has been under threat since he quit the captaincy in April, but he prolonged his international career with his gritty 62 in the series-leveling second test win over South Africa at Johannesburg last month and his 78 against New Zealand last week.

It's "very rare that I get the chance to come back and play international games down here in front of my home crowd," Ponting said this week. "It always has a little bit of extra meaning to play this game. The last couple of visits down here have been pretty good — I am looking forward to the week."

Skipper Michael Clarke said the greenish wicket at Hobart meant batting conditions would be difficult, which played a part in the selection decision to stick with the six specialist batsmen and four bowlers.

Hughes and Warner will be under pressure to score runs, with injured allrounder Shane Watson and top-order batsman Shaun Marsh due back for the four-test series starting Dec. 26 against India.

Clarke confirmed that Watson had strained a calf muscle but it would only delay his recovery from a hamstring injury by a couple of days.

"We are confident he will be right for Boxing Day," said Clarke, adding that Watson would be considered as a specialist batsman if he wasn't able to bowl.

"I think his batting is a very big part of this team especially opening at the top of the order," he said. "If he is batting I can still see him in our team but best-case scenario I would love him to bowl as well."

Lineups:

Australia: David Warner, Phil Hughes, Usman Khawaja, Ricky Ponting, Michael Clarke (captain), Mike Hussey, Brad Haddin, Peter Siddle, James Pattinson, Mitchell Starc, Nathan Lyon. 12th man: Daniel Christian.

New Zealand (likely): Martin Guptill, Brendon McCullum, Kane Williamson, Ross Taylor (captain), Jesse Ryder, Dean Brownlie, Daniel Vettori, Reece Young, Doug Bracewell, Tim Southee, Chris Martin.