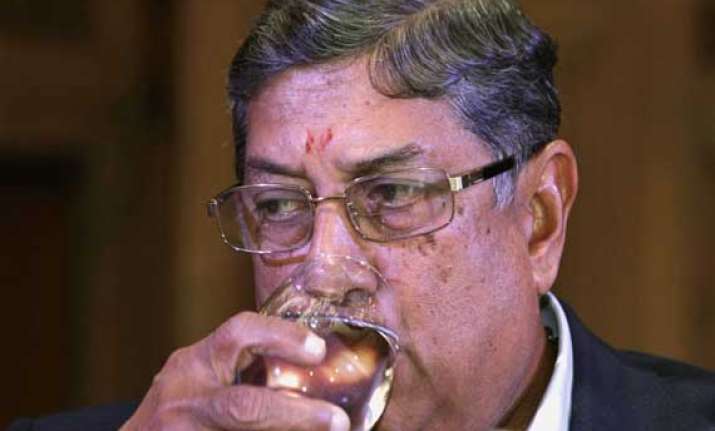 New Delhi: N Srinivasan cannot head BCCI till he comes out clean in a probe conducted against him and 12 others, including India-capped cricketers, whose names have been mentioned by Justice Mudgal Committee report in the IPL betting and spot fixing scandal, the Supreme Court today said.
The court said that it cannot "close its eyes" to the allegations made by its probe committee in the scandal and a probe must be conducted to clear the air as some prominent players were named in the report submitted in sealed envelop.
A bench of justices A K Patnaik and F M Ibrahim Kalifulla, however, expressed reservations over a SIT or CBI probe, saying that institutional autonomy of the Board has to be maintained and a committee constituted by the BCCI to look into the issue would be preferred.
"Having come to know the nature of allegations, we cannot close our eyes," the bench said adding, "Till it (probe) is done, Srinivasan cannot come in BCCI."
"Allegations are against 13 people for which verification and inquiry is needed. Srinivasan's name comes at the last. Very important cricketers name are there but we do not want to name them at this stage," it said.
It said it is "keen" to maintain institutional autonomy of the Board and does not want Police or CBI to interfere in it by ordering probe by them.
"We are not inclined for probe by CBI/SIT/Police against them but we will do so if we are compelled. Who will inquire into the allegations. Think hard and give answer on the next date," the bench said.
The bench said it cannot share the confidential report with probe agencies as the names of cricketers would become public and media would start mudslinging.
Referring to a sealed envelope report of Justice Mudgal Coommittee, the bench said, "It (report) said all these allegations were brought to his (Srinivasan) notice but he did not take any action. That means he was aware about the allegations and did not take it seriously."
"Whom should we give the report? Should we give it to BCCI and Srinivasan or we constitute SIT for the probe," the bench asked.
"We have confidence in BCCI. It should appoint a probe committee but it must comprise people of integrity. We do not want probe by SIT, CBI or Police," it said.
The Board, which claimed to be working under a new management uninfluenced by its former boss, and Srinivasan vehemently opposed any probe by outside agencies but the Bihar Cricket Association, on whose plea the apex court appointed probe panel, favoured SIT probe.
The bench said it is concerned about the cricket and interim arrangement by replacing Srinivasan was made so that IPL image is not sullied and it remains a success.
It said that IPL 7, which is to begin today in Abu Dhabi, will continue as per schedule and allowed Sundar Raman to continue as chief operating officer of the seventh edition of IPL.
The bench allowed his continuation after veteran cricketer Sunil Gavaskar, appointed as an interim president of of BCCI for IPL by the apex court, had written to it to take a decision on the fate of Raman.
The apex court had earlier asked Gavaskar to take a decision on whether to remove Raman as COO or not.