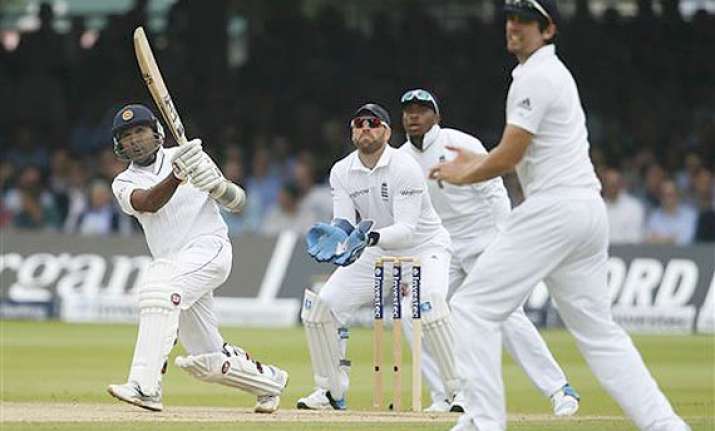 LONDON :  Kumar Sangakkara hit an undefeated 73 to lead Sri Lanka to 212-2 at lunch on the third day of the first test at Lord's, 363 runs behind England's first innings of 575-9 declared.
Resuming Saturday on 140-1, Sri Lanka saw Kaushal Silva add only one more run to his overnight total before falling for 63 to a bouncer from James Anderson, with wicketkeeper Matt Prior taking the catch.  
Anderson had threatened to take Silva's wicket earlier in the session, finding an edge with some late swing but the ball failed to carry to captain Alastair Cook at first slip.  
England's bowlers tried to capitalize on cloudy conditions, which included a few light downpours of rain, but Sangakkara and his new batting partner Mahela Jayawardene made their experience count for Sri Lanka.  
Sangakkara, looking to score his first test century at Lord's, brought up his 50 with three runs off Liam Plunkett. Jayawardene is 29 not out.