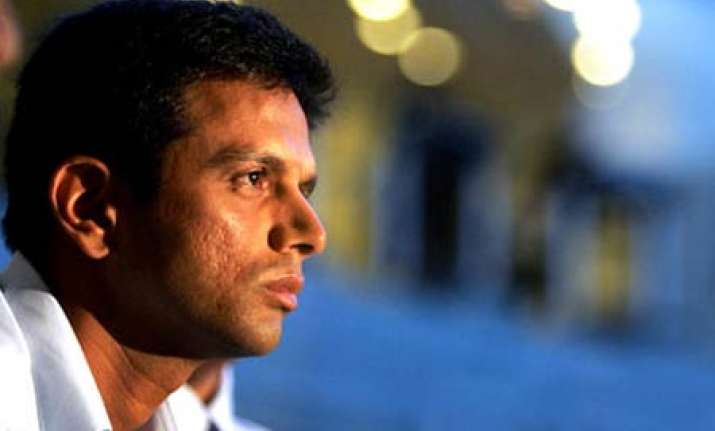 Mumbai, Feb 3 (PTI) Former cricket captain Rahul Dravid says the number of batsmen in the Indian team who can bowl part-time spin gives the Mahendra Singh Dhoni-led team an advantage in the World Cup commencing on February 19.
"India are obviously one of the favourites. They have been playing well for a number of years. It's a well-balanced side with a number of spinning all-rounders or part-time bowlers, which gives India a big advantage," said Dravid after receiving Ceat Cricket Rating World Cup Retro award.
Dravid also felt the real Cup will start after the group stage when the quarter-finals commence with the top four teams in each of the two groups going into the knock-out mode."Everyone knows who are going to be the quarter-finalists. The real World Cup will kick off then. I love to say India will win the Cup but every other team from the quarter-final will be fancying their chances," said Dravid.
Dravid said he was impressed with Dhoni's recent statement that playing at home is being looked as an added responsibility by the Indian team."It's a great privilege to be playing at home in front of home fans. Rather than seeing it as pressure, it should be seen as a great privilege," he said.
He also welcomed the format of the 2011 tournament and said "I wish it was there in 2007," referring to India's early elimination when he had led the team four years ago in the West Indies."It's a matter of peaking at the right time, keeping fit and enjoying and keeping the spirit up during the long tournament," he added.
India's only World Cup winning captain Kapil Dev, who was given the retro World Cup award for 1983, advised Dhoni and his team  "to enjoy playing in the tournament".
He also said the team should not depend on a single player.  
"I always believe a team should not be dependent on a single player. Let the best team win and my heart says it should be India," said the Haryana Hurricane.He also said his Cup-defining innings of 175 not out at Tunbridge Wells against Zimbabwe that rescued India from a sorry 17 for 5 could not be recorded by BBC as the staff was on strike.
"Even I would like to see it as I remember only a few things about it. The India-Zimbabwe match was not big for the British public or for BBC which was on strike," he said.
Former Australian opener Mathew Hayden, after receiving the retro award for 2007 World Cup, said his country – the winners of the last three editions of the World Cup- stood a very good chance this time too.
"We Australians will keep fighting till the last and it will stand the team in good stead in the tournament.""There is a great sense of mate-ship in the team. Shane Watson has started to finish off the match off his own bat like Adam Gilchrist used to do. He has been playing very well over the last 18 months."
"In the Australian team, there are many leaders, a concept developed by Steve Waugh. There is a batting captain in Ricky Ponting, bowling captain in Brett Lee and fielding captain in Watson," he said.
Former Pakistan all-rounder and captain Wasim Akram, a member of the 1992 Cup winning squad, singled out variety in bowling in a team as the key factor in the coming World Cup."Sri Lanka have (Lasith) Malinga and (Muthiah) Muralitharan who are wicket-taking bowlers. PTI