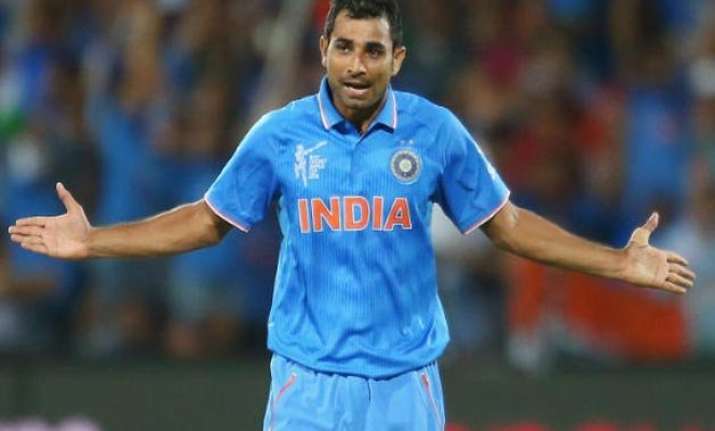 Hamilton: Former Pakistan pacer Aaqib Javed feels that Mohammed Shami is the best Indian paceman on view and his performance has been key to India's good show in the ongoing ICC Cricket World Cup.
Shami has been the pick of India's pace attack taking 9 wickets from three matches and his opening spell has proved to be crucial in India maintaining their stronghold in the group league stage.
"For me the best bowler in this Indian line-up is Mohammed Shami. He has every ingredient of a good fast bowler and is an asset to the Indian team. I am also impressed by young Mohit Sharma and believe that he would turn out to be a good weapon for India in future," Aaqib, who is currently the UAE coach, told PTI in an interaction.
Asked to elaborate on why he thinks Shami as the best, Aaqib, a key figure in Pakistan's victorious 1992 World Cup campaign said, "The first thing that one looks in a fast bowler is pace and Shami has the ability to work up brisk pace. Also what made the difference is the length that he has hit consistently in the past few games. Against Pakistan, his length and the channel at which he bowled has been exceptional."
"Australia is one country where you need a pace bowler to bend his back and hit the deck hard. Shami can hit the deck hard at the correct length. If he can continue this form in the knockout stages, India will be a difficult country to beat in this tournament," said Aaqib, who had 182 ODI wickets from 163 ODIs between 1989 and 1998.
Wasim Akram's former new ball partner then went on to explain why he has also grown a liking for the young Mohit Sharma, who has been the find of the season as far as Team India is concerned.
"Mohit has natural ability to surprise you which is a good weapon to have in any seamer's armoury. He doesn't look very quick from a distance but if one carefully analyses his bowling, he would suddenly increase his pace by at least 5 kmph which is very impressive.