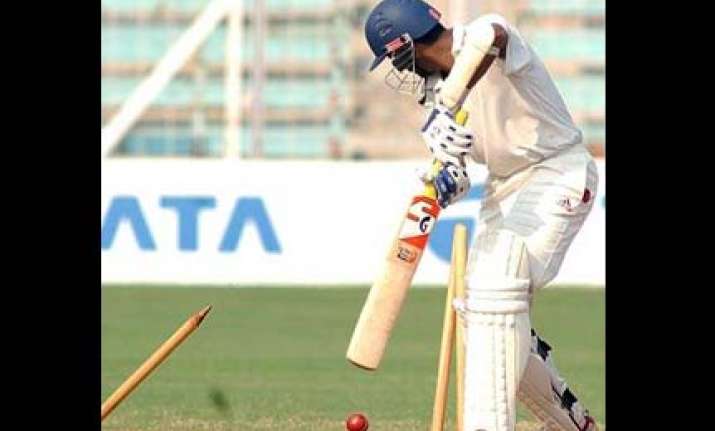 Services were on Wednesday banned from this year's Ranji Trophy cricket season for skipping a match against Jammu and Kashmir in Srinagar citing security reasons, a decision which came soon after the state body's angry outburst against the last-minute pullout.
Services first forfeited the Plate Division match at the Sher-E-Kashmir stadium, hosting a Ranji game after a gap of five years and then apologised to the BCCI and offered to play the game if fresh dates are allocated.
In a damage control exercise after their pullout led to angry reactions from J&K Cricket Association chief Farooq Abdullah and chief minister Omar, Services said they were willing to play the match in Srinagar on fresh dates.
The father and son duo threatened to take up the matter with the Prime Minister and the Home Minister, saying Services had negated the government of India's positive assessment of the state's security situation.
Aware of the sensitivity of the matter, the BCCI promptly disqualified Services from this year's Ranji Trophy and said further action would be decided at its next working committee meeting.
"The Services Sports Control Board (SSCB) cricket team was scheduled to play a Ranji Trophy game against Jammu and Kashmir Cricket Association (JKCA) at Srinagar from November 3 to November 6 2009.
"However, the SSCB forfeited the match, having expressed its inability to send its cricket team to Srinagar. The SSCB has therefore been disqualified from participating in the 2009-10 edition of the Ranji Trophy, in accordance with the rules of the BCCI pertaining to Domestic Tournaments," BCCI secretary N Srinivasan said in a statement.
The pullout created a flutter and the BCCI's prompt disciplinary action forced the SSCB to rethink its decision.
"Services cricket is ready to play in Srinagar. Services Sports Control Board (SSCB) has apologised to the BCCI for the administrative slip-up in despatch of its team and requested them for fresh dates," a top SSCB official said.
Jammu and Kashmir players, officials and Abdullah were at the ground for the match but the Services team was nowhere to be seen.
 Angry at the no show, Abdullah, who is also Union Minister for new and renewable energy, lambasted the Services team.
"Services have negated what the Prime Minister, the Defence Minister and the Home Minister have said, that Kashmir is normal. We have also had ambassadors coming here. This shows that some vested interests don't want Kashmir to normalise," Abdullah fumed.
"I will take this up with the government of India. We were all waiting for the Services. We were here to welcome them. It looks very bad that of all teams, Services decided not to come. It shows a very bad image of India," he told reporters. PTI