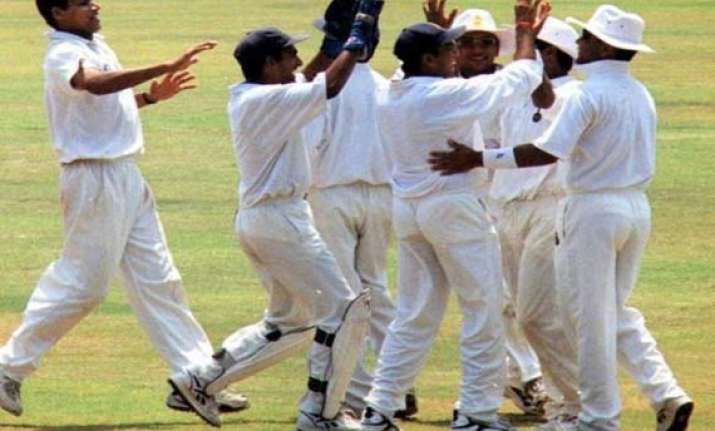 Mumbai, Nov 25 : Delhi and Mumbai piled on the runs against their respective opponents on day two of the fourth round of Ranji Trophy matches Sunday.
Mohit Sharma (175) and Unmukt Chand (138) hit big centuries against Tamil Nadu to take their team to a massive total of 555 for four decl.
Elsewhere, Mumbai riding high on hundreds by Hiken Shah (156) and
Rohit Sharma
(112)scored 443 all out against Hyderabad, who were 138 for one at stumps.
Brief Scores:
Group A:
In Hyderabad: Mumbai 443 all out in 126.3 overs (Hiken Shah 156, Rohit Sharma 112, Abhishek Nayar 64) vs Hyderabad 138 for one in 47 overs (Akshath Reddy batting 63, Hanuma Vihari batting 53)
In Indore: Madhya Pradesh 342 all out in 103 overs (Naman Ojha 99, Devendra Bundela 61, Udit Birla 50; Shami Ahmed 7-79, Abhishek Jhunjhunwala 1-33) vs Bengal 200 for six in 74.5 overs (
Wriddhiman Saha
87, Abhishek Jhunjhunwala batting 41; Ishwar Pandey 3-55, Anand Rajan 2-62)
In Mohali: Saurashtra 90 all out and 212 for seven in 55 overs (Jaydev Shah 38, Sagar Jogiyani batting 72; Siddharth Kaul 4-55, Sandeep Sharma 3-56 vs Punjab 205 all out in 74.2 overs (Jiwanjot Singh 61, Uday Kaul not out 41; Sandip Maniar 2-12, Siddharth Trivedi 5-64)
In Bhubaneswar: Gujarat 117 all out and 54 for none in 35 overs (Samit Gohel batting 30) vs Railways 308 all out in 90.3 overs (Amit Paunikar 85, Mahesh Rawat 66; Rush Kalaria 3-67, Kushang Patel 4-87)
Group B:
In Delhi: Delhi 555 for four decl in 155 overs (Unmukt Chand 138,
Shikhar Dhawan
104, Mohit Sharma 175) vs Tamil Nadu 31 for one in 9 overs (Baba Aparajith batting 25)
In Rohtak: Haryana 295 all out in 123 overs (Rahul Dalal 104, Rahul Dewan 48, Sachin Rana 42; Murtuja Vahora 2-78, Utkarsh Patel 5-83, Bhargav Bhatt 3-63) vs Baroda 197 for three in 61.3 overs (Saurabh Wakaskar batting 100, Aditya Waghmode 77; Amit Mishra 3-45)
In Bangalore: Odisha 202 all out and 30 for two vs Karnataka 213 all out in 77.5 overs (Robin Uthappa 43, Muralidharan Gautam 28; Deepak Behera 3-46, Lagnajit Samal 2-8)
In Nagpur: Maharashtra 227 for three in 90 overs (Virag Awate batting 111, Sangram Dilip Atitkar 45; Sairaj Bahutule 2-55) vs Vidarbha
Group C:
In Jammu: Jammu and Kashmir 153 all out and 13 for none in 4 overs vs Andhra 390 all out in 112.1 overs (Amol Muzumdar 60, AG Pradeep 136, Syed Sahabuddin 55; Ram Dayal 5-63)
In Ranchi: Jharkhand 236 all out in 109.4 overs (Saurabh Tiwary 102, Sunny Gupta 62; Vikramjeet Malik 3-54, Rishi Dhawan 6-63) vs Himachal Pradesh 201 for four in 67 overs (Prashant Chopra 101, Aakash Chopra 61, Shankar Rao 2-32)
In Malappuram: Goa 512 for eight decl in 152.5 overs (Sagun Kamat 107, Manvinder Bisla 74, Rohit Asnodkar not out 100; Sandeep Warrier 2-86, CP Shahid 4-149) vs Kerala 47 for one in 20 overs (Abhishek Hegde batting 26)
In Delhi: Assam 182 all out vs Services 302 for eight in 91 overs (Rajat Paliwal batting 143, Soumya Swain 33; Arup Das 3-78, Abu Nechim 2-65)