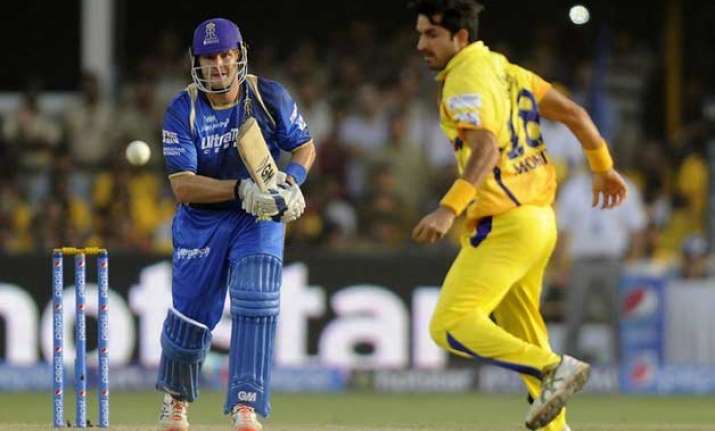 Ahmedabad: Scoreboard of Rajasthan Royals vs Chennai Super Kings, Match 15 of the Indian Premier League 2015 played at Sardar Patel Stadiu, Motera here on Sunday.
A superlative opening-batting display from skipper Shane Watson (73) and Ajinkya Rahane (76 not out) helped Rajasthan Royals maintain their unbeaten run in the Indian Premier League (IPL), winning their fifth consecutive match, beating Chennai Super Kings (CSK) by eight wickets.
Chasing a 157-run target for victory, Royals didn't blink even once with the experienced opening pair thrashing the hapless CSK bowlers, putting on a 144-run opening partnership, to stroll to the target with 10 balls to spare.
With the comfortable victory, Royals maintained their 100 percent win-record in the campaign, perched at the top of the standings with a maximum 10 points from five games.
Chennai remained just a rung below Royals with six points from four matches.
Chennai Super Kings innings: 156/4 in 20 overs
| | | |
| --- | --- | --- |
|  Dwayne Smith |  b Faulkner |  40 |
|  Brendon McCullum |  c Faulkner b Tambe |  12 |
|  Suresh Raina |  c Samson b Morris |  4 |
|  Faf du Plessis |  c Morris b Ankit Sharma |  1 |
|  Dwayne Bravo |  not out |  62* |
|  MS Dhoni |  not out |  31* |
|  Extras |  (lb 2, wd 4) |  6 |
|  Total |  for 4 wickets |  156 |
|  Overs |  innings break |  20 |
|  Fall of wickets                                 |  1-15 (McCullum, 2.2 ov), 2-38 (Raina, 5.3 ov), 3-39 (du Plessis, 6.2 ov), 4-65 (Smith, 9.1 ov) |                           |
Did not bat: Ravindra Jadeja, Ravichandran Ashwin, Mohit Sharma, Ishwar Pandey, Ashish Nehra
Bowling
| | | | | |
| --- | --- | --- | --- | --- |
|  Bowling |  Overs |  Maidens |  Runs |  Wickets |
|  Ankit Sharma |  3 |  0 |  26 |  1 |
|  Chris Morris |  4 |  0 |  19 |  1 |
|  Pravin Tambe |  4 |  0 |  36 |  1 |
|  Deepak Hooda |  2 |  0 |  22 |  0 |
|  James Faulkner |  4 |  0 |  26 |  1 |
|  Stuart Binny |  1 |  0 |  5 |  0 |
|  Shane Watson |  2            |  0 |  20         |  0 |
Rajasthan Royals innings: 157/2 in 18.2 overs
| | | |
| --- | --- | --- |
|  Ajinkya Rahane |  not out |  76* |
|  Shane Watson |  b Jadeja |  73 |
|  Steven Smith |  c & b Bravo |  6 |
|  Karun Nair |  not out |  1* |
|  Extras |  (wd 1) |  1 |
|  Total |  for 2 wickets |  157 |
|  Overs |  match over |  18.2 |
|  Fall of wickets                       |  1-144 (Watson, 16.1 ov), 2-156 (Smith, 18.1 ov) |                       |
Did not bat: Sanju Samson, Stuart Binny, Deepak Hooda, James Faulkner, Chris Morris, Pravin Tambe, Ankit Sharma
Bowling
| | | | | |
| --- | --- | --- | --- | --- |
|  Bowling |  Overs |  Maidens |  Runs |  Wickets |
|  Ishwar Pandey |  2 |  0 |  12 |  0 |
|  Ashish Nehra |  4 |  0 |  32 |  0 |
|  Mohit Sharma |  4 |  0 |  33 |  0 |
|  Ravindra Jadeja |  4 |  0 |  29 |  1 |
|  Ravichandran Ashwin |  2 |  0 |  21 |  0 |
|  Dwayne Bravo |  2.2 |  0 |  30 |  1 |