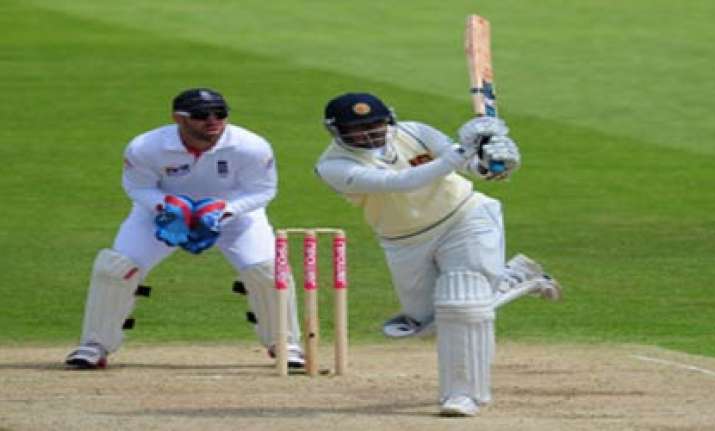 Cardiff, May 28: A superb knock of 112 by Prasanna Jayawardena helped Sri Lanka to pile up 400 runs in their first innings on day two of the first test against England at Cardiff on Friday. England made 44 for 1 at close of play on Friday. Andrew Strauss was out for 20.

Jayawardena was involved in two useful partnerships-68 runs for the seventh wicket with Thisara Perera (25) and 51 for the eighth wicket with Rangana Herath (25) as the Lankans reached the 400 run mark.

The Sri Lankans who did well to end the first day on 133 for 2, keeping the over confident Englishmen at bay, made 183 in the two sessions and took tea at 316 for 6 wickets on day two. At the wickets were Prasanna Jayawardena on 69 with 8 fours and Thissara Perera on 19.

The Lankans made 109 for 2 wickets in the session after lunch.

The Lankan batsmen weathered the early movement that was there and Tharanga Paranavitana, Thilan Samaraweera and Prasanna Jayawardena in particular batting doggedly to make half centuries.

Farveez Mahroof recalled to the side was unfortunately run out backing up too far when Jonathan Trott deflected a ball on to the wicket. He made 16 with one four.

Of the England bowlers the most impressive was James Anderson who bowled with a lot of pace and fire and that he did not meet with more success was just bad luck. Of particular interest was the top class umpiring by Aleem Dar and Billy Doctrov who were spot on over ruling LBW calls.

In contrast to the first day where there was no pace, spin or movement, the second day was indifferent.

There was pace and above all, good movement and James Anderson and Stuart Broad kept the ball up and beat the bats of Mahela Jyawardena and Tharanga Paranavitarna. Strauss supported the pacemen placing four slips and a gully.

England slips seemed to have copied the Australian style of placing their slips one in front of the other about two feet apart.

The going was slow with the England pacemen bowling very accurately. After the early loss of Jayawardena, Thilan Samaraweera joined Paranvitana and added 26 for the fourth wicket when Paranavitana who was going very patiently inside edged a ball from Tremlett not getting to the pitch of the ball.

Paranavitana with his correct approach and unhurried batting helped keep the Lankan batting together. His 66 was well compiled. He excelled in the drive and the cut and made his 66 in 191 balls with 6 fours.

The Lankans took lunch on 207 for 4 with Samaraweera stroking the ball confidently on 38 with 6 fours and Prasanna Jayawardena on 21 with 4 fours. They were involved in a partnership of 48 in 77 balls. The Lankans scored 74 for the loss of two wickets in the morning session.

England took the new ball a few overs after lunch and met with success when Anderson who was bowling well throughout got one to move and Samaraweera edged to Swann at second slip for a well compiled 58 in 89 balls with 9 fours. Samaraweera and Jayawardena added 84 in 119 balls.

The England bowlers ho were awry yesterday, bowled with more purpose and better control and moved the ball both ways to regularly beat the bat, but could not find the bats a little bit broader to get a touch.

Disaster struck Sri Lanka who were looking for something over 400, when Jayawardena after scratching around went without scoring and adding to the total when he nicked an Anderson delivery to Strauss at first slip. It was another failure for Jayawardena.

The Sri Lankans in getting to 133 for 2 in the time remaining for play on a rain shortened first day, did reasonably well to stall the England bowlers from breaking through and taking honours.

Dilshan had a memorable beginning to his Test career, winning his first toss and adding to it by notching up a half century. In winning the toss he also read the wicket well and did right in batting. Swalec Stadium, Cardiff, Friday.