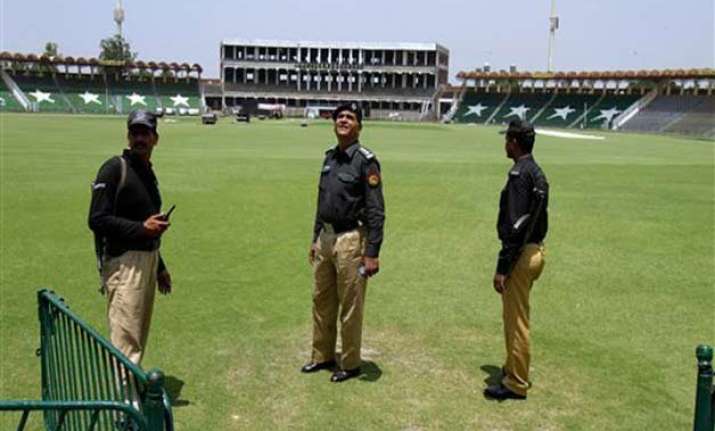 ISLAMABAD (AP):   Hundreds of Pakistani policemen featured in a dress rehearsal on Saturday to provide security to the visiting Zimbabwe cricket team in the eastern city of Lahore.
Zimbabwe is set to be the first test-playing nation to tour Pakistan since gunmen attacked the Sri Lanka team bus — also in Lahore — in 2009. Six police officials and a van driver were killed during the ambush while several Sri Lankan team members were wounded.
On Saturday, two blue-colored team buses were shown surrounded by at least a dozen police vans in television footage from Allama Iqbal International Airport where Zimbabwe is scheduled to arrive on Tuesday.
Dozens of police officials monitored security arrangements at the Gaddafi Stadium, which is scheduled to host two Twenty20s and three one-day internationals in a 10-day period starting May 22.
Geo Television said that at least 3,000 policemen will be inside the 27,000-seat stadium during the matches.
Two helipads - one close to Gaddafi Stadium and another near the team hotel - will also be built in case of emergency. A special surveillance center has been established near the stadium to monitor security arrangements.
Ticket sales began Saturday with the text "Igniting a passion that brings together a nation" written on the center of the ticket. Inside the stadium, workers were busy repairing spectators' stands.
Zimbabwe's tour was jeopardized after militants killed 45 minority Shiites on a bus in the southern port city of Karachi on Wednesday.
Zimbabwe Cricket first issued a statement on Thursday, saying it had called off the tour, but later said the negotiations were on.
ZC chairman Wilson Manase told Pakistan Cricket Board chairman Shaharyar Khan that he had security clearance from the Zimbabwe government to go ahead with the tour.
The PCB said it had received written confirmation from ZC late Friday night that it will send its team to Pakistan.