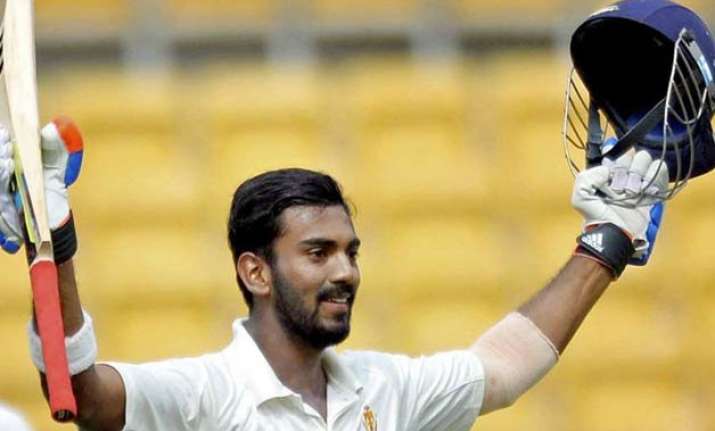 New Delhi: Looking forward to the challenge of facing Dale Steyn in the upcoming four-match Test series against South Africa, Indian opener Lokesh Rahul has said playing the speedster in the longer format is a "different ballgame" as one has to counter the late movement he gets.
Young Rahul may have shared the Sunrisers Hyderabad dugout with the Proteas pacer in IPL, but admitted that batting against Steyn during his 72-run knock for the Board President's XI was a totally different experience.
"I thought I would find it easier to face him but I played him today and it was a whole different experience," Rahul told BCCI.TV after the opening day of the two-day practice game in Mumbai yesterday.
"Fielding or keeping wickets when he is bowling is one thing. Batting against him with the red ball moving and doing a bit, like it did today, is a different ballgame. He gets the ball to move late and I found it a little hard today. I love playing with him, and playing against him will be a different challenge that I look forward to," he added.
Rahul, 23, who has represented India in 5 Tests since making his debut at the Melbourne Cricket Ground in December 2014, also admitted that getting into a pacers' mind is difficult.
"We try to, but you know how the fast bowlers' minds work. They think and work differently, doing different things in each game. You can't really understand what goes on in their minds. All you can do is watch the ball and react to it," he said.
The Karnataka opener also credited his state coach Arun Kumar for getting him battle ready for the South Africa Tests.
"I was practising on playing the turning ball keeping the pitches for the South Africa series in mind. I worked with the Karnataka coach, J Arun Kumar. He was a great player of fast bowling in his day, so I spent some time working with him on playing the short balls and fast bowling in general because we know the South African pacers can clock high speeds. So far it has been coming out well and I have been moving well in the crease," he said.
With Shikhar Dhawan and Murali Vijay always in the running for the opening slot along with Rahul, the youngster insists that there is no in-house competition within the Indian dressing room.
"From the moment I entered the dressing room, I never felt there was any competition. Both Shikhar and Vijay came separately to me and spoke about how it would be different from the Ranji Trophy and they were trying to prepare me if at all I got a chance in Australia. It was really important and relaxed me a lot.
"We are all young and so the atmosphere is very light and friendly. We all want each other to do well and we genuinely enjoy each other's performances. As far as the team culture goes, this is the best you can get. That shows in the team's performance too - we won the Test series in Sri Lanka and did well in Australia too," he said.