Follow us on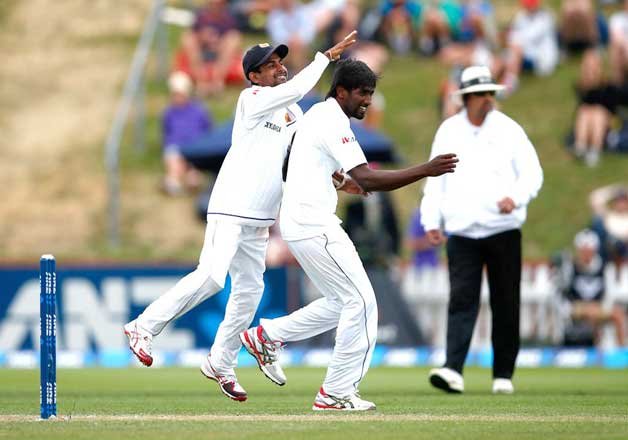 Wellington, New Zealand: Nuwan Pradeep and Rangana Herath shared three wickets before lunch on the third day Monday to tighten Sri Lanka's grip on the second cricket test against New Zealand.
Pradeep dismissed Hamish Rutherford for 40 and Tom Latham for 35 and Herath bowled Ross Taylor for 0 to send New Zealand to lunch at 96-3, still 39 runs behind Sri Lanka's first-innings total. Kane Williamson was 4 and Brendon McCullum 14.
New Zealand started the day playing catch-up after Kumar Sangakkara's 203 on Sunday — his 11th test double century — lifted Sri Lanka to 356 in reply to New Zealand's first innings of 221.
Rutherford and Latham weathered the first hour, putting on 75, before being tempted into loose shots by Pradeep, who took 4-63 in the first innings. He had 2-17 at lunch.
After reaching 75-0, New Zealand stumbled to 79-3 as the wickets of Rutherford, Latham and Taylor fell for four runs within 29 balls.
Rutherford had battled throughout the morning, fighting his instinct to play too wide from his body and to try to score from balls that would be better left. He toiled for 119 minutes, facing 85 balls before being dismissed in a strategic play by Pradeep and Sri Lanka captain Angelo Mathews.
Pradeep began bowling around the wicket to Rutherford, testing him with a series of short-pitched balls. Mathews then moved a fielder to third man but stationed him well in from the boundary and when Rutherford finally took a big swing at a shorter ball, his shot flew directly to the fielder who hardly moved to take the catch.
Latham had played a series of sweet cover drives in the first hour as New Zealand briefly seemed to be getting on top of the Sri Lanka attack. But he also fell to a well-executed plan: Pradeep, bowling over the wicket and across the left-hander, tempted him to drive again and he feathered an edge to Jayawardene, the ninth dismissal by a wicketkeeper in the match so far.