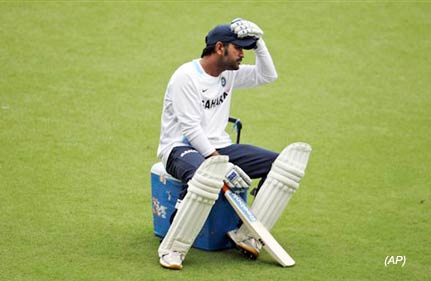 Nagpur, Nov 19: India captain Mahendra Singh Dhoni today said he is "not really bothered" about his Test form but conceded that "poor shot selection" has been a problem for him for quite some while now.
"About my batting, I have been playing quite well both in match situations as well as in the nets. I am middling the ball well. But some of the decisions I took while batting has been wrong. I have chosen to play wrong shots while batting with the tail-enders. Actually, when you bat with tail-enders, you tend to take more initiative and try and play big shots and get out in the process. I am really not bothered about my form," the skipper said ahead of the third Test against New Zealand starting here tomorrow.
When asked about Suresh Raina's poor form, the skipper defended the UP youngster.
"He has not scored only in a couple of matches. He is a positive player and often gets out playing big shots."
The Indian team for the second day in a row couldn't have a proper net session due to heavy afternoon showers. Only Sachin Tendulkar batted for around 20 minutes before players returned to the dressing room.
Asked whether this is ideal preparation for a Test match, Dhoni said that sometimes it helps not to practice too much.
"It may be a blessing in disguise that we aren't getting enough time to practice. We are playing so much that it's better not to push oneself too much," he said.
Dhoni also defended the four-bowler theory and ruled out the possibility of trying something different in this coming Test match too.
"Playing four bowlers has been something we have been doing and I don't see playing an extra pacer is an option. Although this pitch will provide some help but then we aren't looking at playing five bowlers," he replied.
He feels that in the absence of Zaheer Khan, Ishant Sharma and S Sreesanth will put their hand up and respond.
However, when asked about the team's bowling woes, Dhoni conceded lack of options has been a problem.
"Unlike earlier times, we don't have too many part-time bowling options now. (Virender) Sehwag is taking care of his shoulders. I can't take a risk with the World Cup being around. It's the same with Sachin. Now we have one option in Suresh Raina. But we are looking at Sachin bowling a few overs before lunch and tea," the captain said.
The skipper also defended spin twins Harbhajan Singh and Pragyan Ojha who have failed to seize the initiative for the hosts.
"Since Anilbhai (Kumble) retired, Harbhajan has been our main strike bowler. He has always been under pressure to perform. Everytime, he goes out there, people expect him to take five, four or at least three wickets. He has bowled pretty well but hasn't exactly been lucky," the skipper explained.
"As far as Ojha is concerned, he has a specific role to play in this team and that is to restrict the batsman. It's more of a containing job and picking up two to three wickets in the process."
Talking about India's bench strength in bowling, the captain said, "What we have is the best available option. You need to give youngsters exposure but there are times when experience matters a lot." PTI