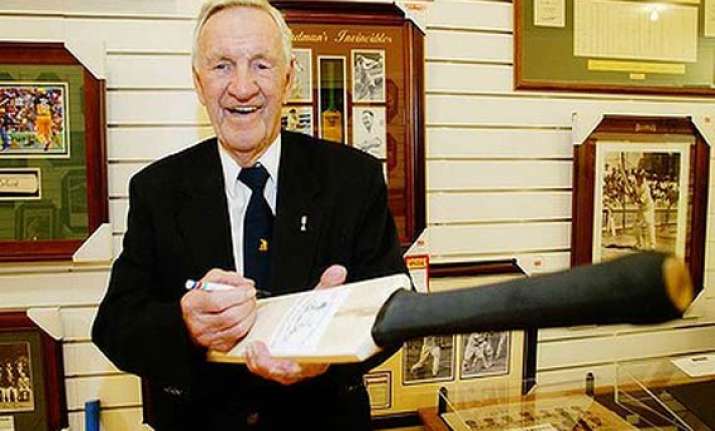 Brisbane, Australia , Dec 3: Sam Loxton, one of Australian cricket's so-called "Invincibles" and who Sir Donald Bradman once referred to as "the very essence of belligerence," has died at the age of 90.

Loxton, who died early Saturday on the Gold Coast, was a member of Bradman's squad which went through the 1948 test tour of England undefeated. An allrounder, he played three tests on that tour after making 80 on debut against India at Melbourne in February that year.

Cricket Australia announced Loxton's death at the start of day three in the trans-Tasman test between Australia and New Zealand at the Gabba, where a moment's silence was held in Loxton's memory.

Loxton played 12 tests between 1948-51. He was a test selector between 1972-81 for Australia.

"His whole attitude suggests defiance and when he hits the ball it is the music of a sledgehammer," Bradman wrote in "Farewell to Cricket."Australia's win in the fourth test at Leeds in 1948 was set up by Loxton's 105-run partnership with 19-year-old Neil Harvey.

Loxton reached his first and only test century -- 101 -- in Johannesburg against South Africa in 1949. He scored 554 test runs at 36.93. A medium-pace bowler, Loxton was quoted as saying he loved facing fast bowlers who dug the ball in short in the hope of taking off his head."If they do, I'll hit `em over the fence," he said.

Loxton continued to play state cricket with Victoria after his test career ended after the 1950-51 Ashes series and was later a longtime lawmaker in Victoria's state Parliament for 24 years.

Loxton grew up in Melbourne during the Depression about 100 meters from the Prahran Cricket Ground, and in its tribute CA said Loxton "haunted the club from then on."

Loxton also played Australian Rules football in the old Victorian Football League with St. Kilda, kicking 114 goals in 42 games.

He moved to Queensland later in life and remained an outspoken commentator on cricket right to the end. At the time of his death, he was one of only three remaining members -- the oldest -- of those Invincibles.

He'd auctioned off his baggy green cap from the 1948 tour to raise money for breast cancer.

Loxton experienced a double tragedy on the same day in late 2000 when his wife, Joan, drowned in a pool at their home on the same day he discovered his son from a previous marriage had been killed in a shark attack in Fiji.