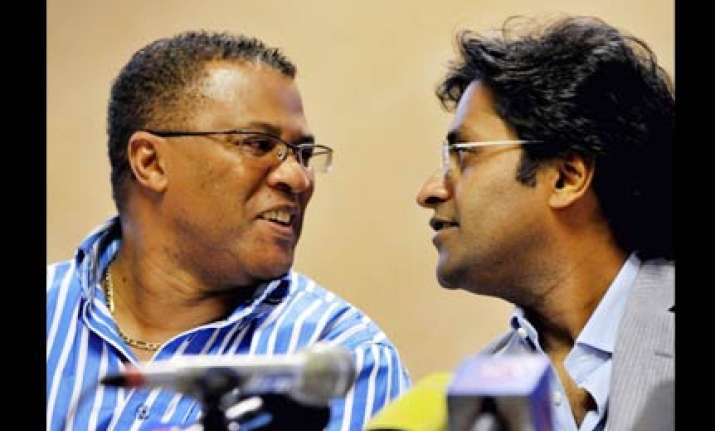 Mumbai: Suspended IPL chairman Lalit Modi denied making bonus payment of one million Rand to Cricket South Africa chief Gerald Majola for agreeing to host the second edition of the T20 League in South Africa last year.
Modi, currently facing a probe by the Cricket Board's three-member disciplinary panel for alleged irregularities in running the cash-rich league, said that whatever payments were made by the IPL was only to CSA as per an earlier agreement.
"We have and had no idea about these payments and as such I have no comment to make. It's an internal CSA matter. IPL only made payments to CSA for their help and services as per our agreement with them," Modi told a TV news channel.
The suspended IPL chief is currently overseas. Reports have come from South Africa that Majola will pay back more than R1 million believed to have been paid to him as a bonus from funds provided by Modi for agreeing to host the 2009 event when it was hurriedly moved to South Africa after security concerns in India because of Lok Sabha elections being held at the same time.
Majola offered to pay back the money in an urgent telephonic conference with the executive committee of CSA on Wednesday night as the panel prepared to release its financial statements next week, the Afrikaans daily Beeld had reported, adding the payment would be indicated as "a miscellaneous loan that has been repaid".
The move came after an extensive investigation into irregularities in the payment of bonuses by the cash-flushed IPL.
After external auditors Deloitte reported irregularities at CSA, the body initiated an internal investigation to establish how R4.7 million was earlier divided between Majola, Don McIntosh, chief organiser of the tournament, and former head of finance at CSA, and Kass Naidoo, CSA's commercial director.
McIntosh recently resigned from his position. CSA benefited by around R10 million from the IPL II played out in South Africa.
Beeld said it had learned on good authority that the bonuses were not authorised or declared, and that neither the executive committee or CSA's financial and remuneration committees had any knowledge of it, which was denied by Majola.
Majola has described the investigation as a witch-hunt. "There is nothing sinister about the bonuses and I have already paid tax on it. There is just uncertainty over money which was not paid by CSA."
"If Graeme Smith (the Proteas captain) gets his salary cheque from the IPL, he does not need to explain it to CSA.
Why should I?" Majola told the daily.