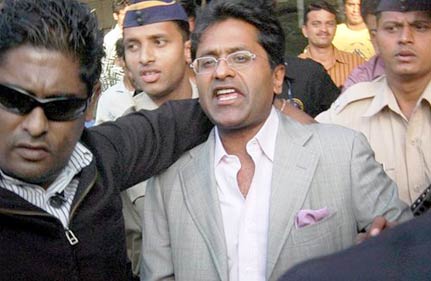 New Delhi, Nov 25:  Suspended IPL chairman Lalit Modi said his ouster as the IPL boss was part of a witch-hunt by people who are "jealous of his success" and that he will return to India only when he is convinced of his security.
In his first major interview since his unceremonious exit, Modi defended himself of any wrong doing and said his family and friends had invested in IPL teams only because nobody else was convinced with the concept.
In the lengthy interview, Modi spoke of how people with vested interest in the BCCI tried to pull him down and how he had spent money from his own pocket to make the IPL a huge success.
"I can very clearly tell you that I have not pocketed any money from the IPL. I created something out of nothing. The BCCI had benefited, will benefit in the next ten years in excess of USD 2 billion. This is something of an initiative that I took on my own, as an honorary member and I did not do it for myself, and the benefit 100 per cent accrued to the BCCI," Modi said.
"What I did is absolutely by the book. Currently whatever is on is like a witch hunt and you know I'd rather not comment on it.
"There's a lot of jealousy all around, and it was more than meets the eye, it's not only about the IPL, it's about the running of the BCCI, there are vested groups out there trying to take control, and there is more to it, but I'd rather not get into that right now," he added.
The combative Modi, who has been out of the country ever since his removal as IPL chairman, said that his security advisors have instructed him not to return to India because of death threat.
"I will return to India as and when I feel secure. My security agencies have advised me that it's not appropriate time currently to go back till the security situation smoothens out. And the Indian police have continuously told me yes, that the threat perception continues to be there and as and when I feel comfortable with that factor I would go back," he said.
Modi also made it clear that he had never intended to get former Minister of States for external affairs Sashi Tharoor sacked but had only wanted to bring the truth out.
"It wasn't intended to embarrass anybody. It was the intention of that to get the truth out there, it wasn't intended to ridicule, embarrass a minister or the government.  PTI