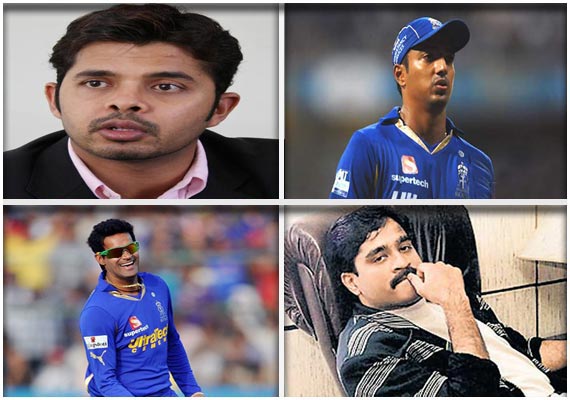 New Delhi, July 30: Fugitive don Dawood Ibrahim, his aide Chhota Shakeel and three Rajasthan Royal cricketers figured in the charge sheet filed by police Tuesday in a Delhi court over the Indian Premier League (IPL) spot fixing case. Dawood was identified as the kingpin of the racket.
The formal set of charges, running into 6,000 pages, were filed before Additional Sessions Judge Vinay Kumar Khanna. he charge sheet named cricketers
S. Sreesanth
, Ajit Chandila and Ankeet Chavan among the 39 accused in the scandal related to IPL-6 held earlier this year.
The charge sheet said that as per a Central Forensic Science Laboratory report on phone call intercepts, one of the voices has been identified as that of Dawood and a witness has identified the don's voice and phone number.
The CFSL report related to phone calls made by cricketers and bookies with alleged links with the underworld, it said.
The forensic report indicated the cricketers and bookies were also speaking to Dawood's associate Javed Chutani and a person identified as Salman, now in Pakistan.
The court fixed the next hearing on the matter Wednesday before the judge concerned for consideration of the charge sheet.
The accused have been charged with offences of cheating and conspiracy under sections of the Indian Penal Code and provisions of the stringent Maharashtra Control of Organised Crime Act (MCOCA).
Police slapped provisions of the MCOCA against the accused, saying they were acting under the command of Dawood and Chhota Shakeel.
Rajasthan Royals captain Rahul Dravid, players Harmeet Singh and Siddharth Trivedi have been named among 168 witnesses in the case.
Besides Dawood, Shakeel and the three players, the other accused include bookies Ashwani Agarwal, Ramesh Vyas, Deepak Kumar, Sunil Bhatia, Firoz Farid Ansari, Javed Chutani and ex-Ranji player Baburao Yadav.
The other accused named in the charge sheet include Salman, Manoj Guddewar, Amit Kumar, Jiju Janardhan, Chandresh Patel, Ramakant Aggarwal, Rakesh, Kiran Dole, Mohd Yahya, Manan, Ajay Goel, Love Garg, Amit Gupta, Bhupender Nagar, Sunil Saxena, Sayed Durez Ahmed, Vikas Chowdhury, Vinod Sharma, Nitin Jain, Abhishek Shukla and Jitender Jain.
Sreesanth, Chandila and Chavan were arrested in May on the basis of phone conversations and footage of IPL matches in which they were caught giving predetermined signals to bookies.
The three players of Rajasthan Royals, along with 11 bookies, were arrested from Mumbai, Ahmedabad and Delhi in May. Another 15 people were arrested from different parts of the country later.
Till now, 29 people have been arrested. Twenty-one of them are on bail, while eight are in judicial custody. Ten accused are still absconding.
Twenty-one accused in the case, including Sreesanth and Chavan, have been granted bail by court, while the others, including Chandila, are in judicial custody.
Police have also moved court for the cancellation of bail granted to Sreesanth, Chavan and 19 others.
The court had also issued non-bailable warrants against Dawood and Chhota Shakeel.
Delhi Police Commissioner Neeraj Kumar earlier said that he would like the charge sheet in the spot fixing case to be filed before he hangs up his boots July 31.