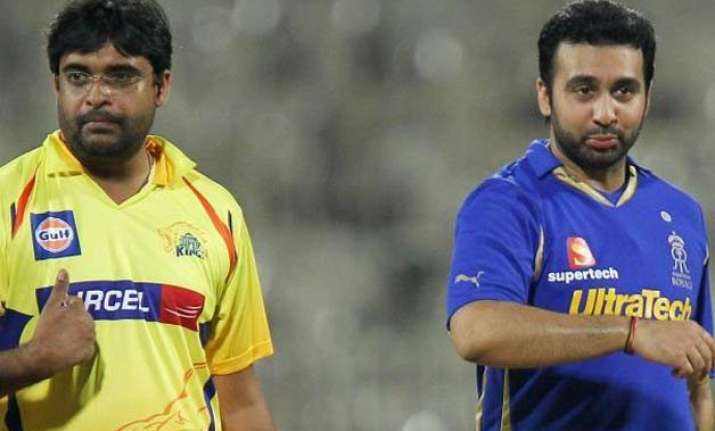 New Delhi: The Supreme Court appointed committee, headed by former Chief Justice of India R M Lodha, today suspended both Rajasthan Royals (RR) and Chennai Super Kings (CSK) from IPL for 2 years. 
Lodha panel also slapped lifetime suspension on both Gurunath and Raj Kundra.
The IPL scandal surfaced in May 2013 when Delhi Police arrested three Rajasthan Royals players S Sreesanth, Ajit Chandila and Ankeet Chavan on the suspicion of being involved in match fixing.
The police had been taping phone calls for a couple of months before finally gathering enough evidence to proceed to arrest. All of them were suspended by BCCI and their IPL franchise.
In unrelated case, Mumbai Police arrested Vindu Dara Singh and Gurunath Meiyappan for alleged betting and having links with bookies.
Here is the chronology of events that leads to the pronouncement of quantum of punishment RR, CSK, Meiyappan and Raj Kundra:
2013:
May 16: Rajasthan Royals players S Sreesanth, Ajit Chandila and Ankeet Chavan arrested by Delhi police.
May 21: Actor Vindu Dara Singh arrested by Mumbai police for his alleged connection with bookies.
May 24: BCCI President N Srinivasan and his son in law Gurunath Meiyappan appear before police for questioning. Meiyappan was later placed under arrest.
June 2: BCCI forms a committee of two retired judges to investigate charges against RR and CSK.
June 11: Srisanth and Chavan get bail.
July 28: BCCI committee gives clean chit to RR and CSK.
July 30: Aditya Verma, the secretary of the unrecognised Cricket Association of Bihar, filed PIL against BCCI in Bombay High Court. HC ruled that the BCCI probe panel illegal.
August 5: BCCI appeals in Supreme Court against Bombay HC's ruling.
September 13: BCCI imposes lifetime ban on Srisanth and Chavan.
October 7: SC constitutes Justice Mudgal committee to probe IPL fixing scandal.
2014:
November 3: Mudgal committee submits its report in SC.
2015:
January 22: SC holds Meiyappan and Raj Kundra guilty of betting in IPL matches.
July 14: Quantum of punishment to be pronounced.