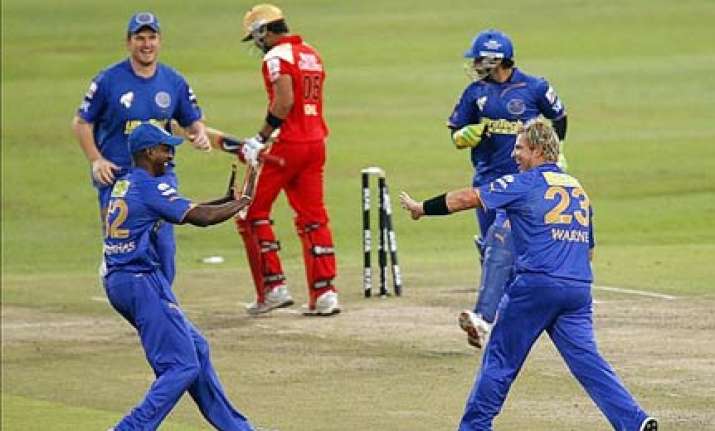 India's prospects in World Cup Twenty20 could get derailed given the spate of injuries to players of Team India, reports Times of India.  
The World Cup Twenty20 kicks off in  West Indies  from April 30 - New Zealand play Sri Lanka at Providence just five days after the IPL final - it might finally be time for some cricketers to take a call on how best to preserve their energies.  
The latest to join the bandwagon of injured cricketers is Delhi Daredevils skipper and India opener Gautam Gambhir, who strained his hamstring while fielding against Mumbai Indians on Wednesday and might be out for some time. Gambhir played a central role in India's victory in South Africa in the inaugural edition of the World T20 and the injury has come at a critical time. The team's worries, though, might just begin there.  
MS Dhoni is already out for 10 days from the IPL after being struck on the arm by a Shane Bond delivery. Will he be carrying a niggle to the Caribbean? Yusuf Pathan is being persisted with by the depleted Rajasthan Royals in spite of injuring his shoulder while fielding. How fit will the big-hitter be to free his arms for India when the time comes?  
Ashish Nehra has picked up a rib injury which has ruled him out for two weeks. The left-arm pacer's track record on injuries, incidentally, is not too inspiring. Harbhajan Singh too survived an early scare. Yuvraj Singh is yet to fully recover from a wrist injury and given how injury-prone India's T20 batting mainstay has become, is it a wise idea for him to go all out in the IPL, questions the Times report.  
Another player central to India's plans, Suresh Raina, wouldn't be drawn into the debate. "You never know about injuries. My job is to play as much as I can and I will try," he said. Delhi Daredevils assistant coach Eric Simons was more forthcoming on Gambhir's condition: "Gambhir had gone this morning for a scan. I think (the injury) is reasonably serious. We don't know at this stage how bad the injury is."  
Understandably, Simons was cautious when asked if the IPL was affecting national teams' fortunes, given that South Africa skipper Graeme Smith has also gone home after yet another serious finger injury. "The IPL has become a very important part of international cricket. I suppose one has to look at the overall picture of over 12-24 months. If after assessment one finds that the injuries are related to the tournament, then we will be more aware," he said.  
These are all questions India's think-tank must seriously consider, though whether the franchisees are willing to make allowances for the national team in the high-stakes bustle of the IPL is another matter. Last year, Virender Sehwag and Zaheer Khan picked up injuries in South Africa during IPL 2 and amid reports of team discord, India put up a dismal performance immediately after in the second World T20 in England. Can India avoid a repeat? Given that their recent track record in ICC tournaments is poor, can MS Dhoni afford to risk his key players, or himself?