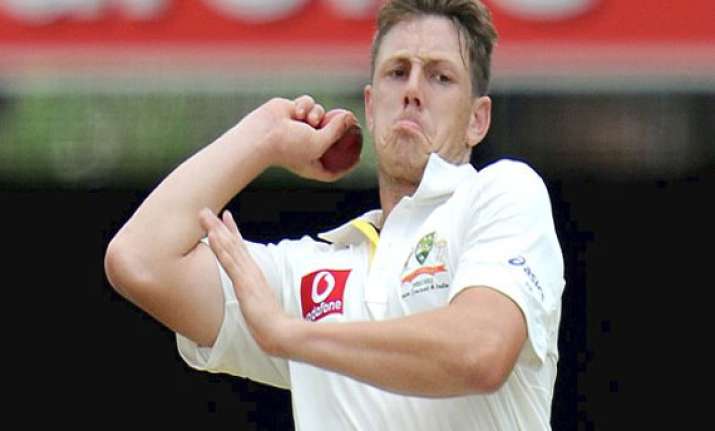 Chennai, Feb 14: Fit-again Australian pacer James Pattinson believes India still boast of a "class batting line-up" despite the retirements of Rahul Dravid and VVS Laxman and the visitors will have to work really hard to beat the hosts in their own backyard during the four-Test series.
"It's different (batting line-up) from the one we played last. Again, it's a class batting line-up and the Indians would look to prove us wrong. It's afantastic line-up with (Sachin) Tendulkar in form after a Ranji (Trophy) ton. (Virender) Sehwag can do anything on his day. It's good to see Dravid and Laxman not out there. We are looking forward to the challenging conditions," Pattinson said.
"It's going to be a good battle. We are not going to get friendly conditions like we did in Australia. We bowled quite well over there, so to come here and to do well is something that would be great," he told reporters after the team's optional training session here.
Pattinson, who bowled nine overs for one wicket in a tour match against an Indian Board President's XI ahead of their second warm-up game here from February 16, praised Jammu and Kashmir off-spinner Parvez Rasool for his superb all-round show.
"I think he (Rasool) bowled very well on the wicket and it turned quite a bit. He bowled a lot of overs as well," he said.
Rasool shone with both bat and bowl in the drawn two-day tour game here, picking up seven wickets in Australia's first innings and scoring crucial 36 runs while batting.
The 22-year-old from Victoria pinned his hopes on skipper Michael Clarke, who, he believes, is the best player of spin bowling in the tourists' line-up.
"You are not supposed to play against the spin over here. We have got some good players of spin and all of our batsmen spent some time in the middle (during the tour game), apart from Maxwell, so it's another bonus to take. Pup (Michael Clarke) is one of the best players of spin in the world and hopefully he can play the role that (England captain) Alastair Cook did. And, we have got younger players as well who should play around him," he said.
Pattinson said he is on track for a Test return after recovering from a rib injury.
"It's frustrating not to play consecutive games through the year. But I am more mature now and aim is to playing test matches consistently. The best way to learn is by playing cricket and not just by bowling in the nets. So, I am going to manage that in the next couple of years until I become 26 at which point I can play almost every test available," he said.
The paceman had been out of the international arena after suffering the injury in the second Test against South Africa in November. He played a Sheffield Shield match for Victoria last month before travelling to India for the series with the first Test starting from February 22 here.
Pattinson reasoned out bowling every delivery "too fast" for his breakdown.
"The reason behind my injury was probably bowling too much at a young age. I suppose trying to bowl too fast every delivery is one of the reasons I break down. Even when Brett Lee and Mitchell Johnson started playing, they were injury prone as well and so it's not just me who is breaking down.
"It has happened to other bowlers around my age. So it's about managing the amount of cricket that is played at my age to keep the skill going and improving. At my age, I am not going to play every test, so it's about managing me, Mitchell Starc and Pat Cummins, how many tests we are going to play, and keep our skills going," he said.
Pattinson said the Australian fast bowlers will look to trouble Indian batsmen with pace and bounce early on.
"We will do the homework before the first test and work on plans for different batsmen. We will try and mix it up to the batsmen especially on wickets with invariable bounce. At this level, batsmen play with patience, so it's important to be consistent, mix it up and be smart.
"Jackson Bird has had a really good summer and so have two left-armers, Mitchell Johnson and Starc, who has been bowling fantastically. It's fantastic not to have just three bowlers and going to the game with four who want to perform. The best thing is that we all offer something different, which is another great thing."