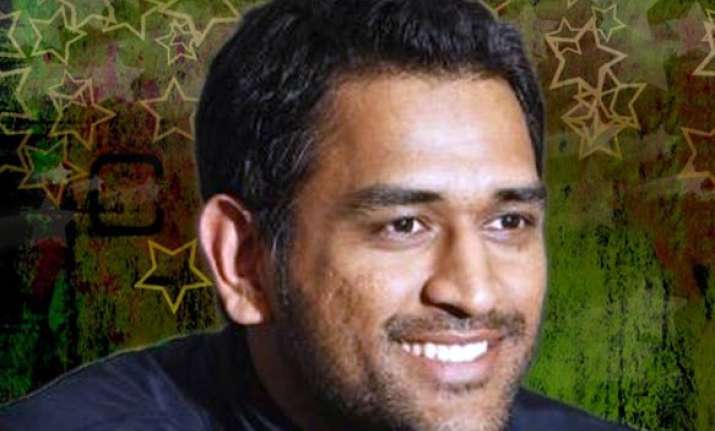 New Delhi, July 07: Ten years ago, a 20-year-old thin-framed Ranchi boy worked as a ticket collector in Indian Railways and when off duty, used to hit the ball long and hard on a ground in Kharagpur.
The direction of the wind changed in 2004, and with it changed his fortune, like we read in fairytales. That 20-year-old boy, who turned 30 on Thursday, has grown up to become Mahendra Singh Dhoni.

Trophies are his favourite toys and he has never hidden his penchant for them ever since beating Pakistan in a nail-biting ICC World Twenty20 final in 2007. That was his first assignment as a leader after three seasons at heart-stopping pace, in which his batting blew apart oppositions, with Pakistan and Sri Lanka being the chief sufferers.

Though football happened to be his first crush, Dhoni was destined to attain dizzy heights in cricket and the words of his roommate during his early days in the game echo that.

Robin – who shared room with Dhoni in domestic cricket for four years, said, "Dhoni's dedication was such that many a times he went without pay while working (as a ticket collector). He was even given a notice by the Railways for not attending work but he continued to play in spite of it. His focus was incredible."

Besides Dhoni's focus, it's his daredevilry and instinctiveness that has paid rich dividends to Indian cricket, which includes reaching the acme of Test cricket.

Unfazed he gives Joginder Sharma the last over of an epic World Twenty20 final against Pakistan. And what transpires? The bowler comes up trumps! Then in probably India's biggest match of last 28 years, the World Cup final, he drafts in an erratic S Sreesanth instead of in-form R Ashwin. And when the move backfires, he promotes himself ahead of 'Man of the World Cup' Yuvraj Singh in the batting order. What happens next? Dhoni wins India the World Cup with 91 not out.

Still for some, he is an inconsistent batsmen and a subdued one under the burden of captaincy. Fair enough! But to his credit, Dhoni never flinches under pressure, making game-changing moves as a skipper even when criticised for his lack of consistency with the bat.

And not only does he make heads turn with his decisions on the field, Dhoni's off-field obsessions have been as inviting as his cricket.

Be it his love for bikes and guns or his quirky hairstyles, whatever Dhoni does becomes a rage in the country. Long hair or no hair at all, fans follow each and every move, each and every style that Dhoni adopts. Dare say, brand Dhoni is within touching distance from brand Tendulkar, and not many can do that.

Amid all this, another big day arrived in Dhoni's life on July 4, 2010, when he married his lady love Sakshi, a hotel management student. In a very quiet and strictly private affair, Dhoni tied the nuptial knot in the presence of close ones, along with a few of his India teammates.

Undoubtedly, his rise from rags to riches has added belief to the dreams of many of India's small-town aspirants who want to make it big on the world stage. In fact, it won't be wrong to admit that Dhoni is the flagbearer of such sportsmen who now believe that dreams can be chased.