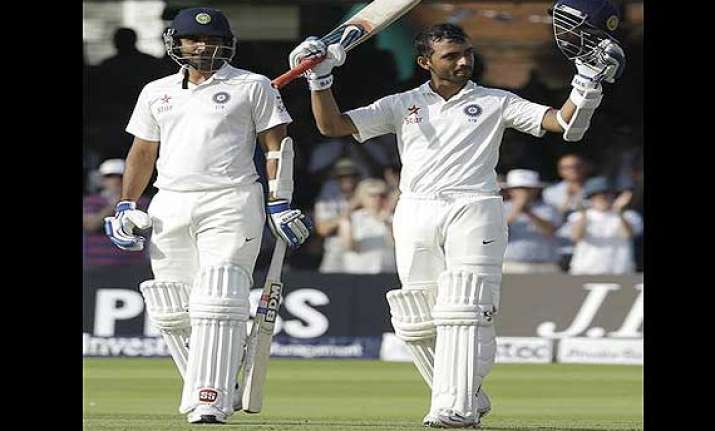 London, Jul 17 :  Delighted to be on the Lord's roll-of-honour after a gritty hundred on the opening day of the second Test, Ajinkya Rahane revealed that he was a little nervous before his first Test at this celebrated ground.
The batsman though did calm down on the morning of the match and that was enough to make him register his second Test ton in his seventh match both the tons coming in overseas conditions.     
"Every hundred is special, be it at Wellington or at Lord's," said Rahane, referring to his maiden Test ton scored versus New Zealand earlier this year.
"But yes this is special because I have done this at Lord's. I was a little nervous last night because this is my first match at this ground. But I calmed down in the morning realising that all I need to do was bat patiently until I face 25-30 deliveries and then see how it will go," he said.     
India, who ended Day 1 on 290 for nine, were invited to bat first on a green-top wicket by Alastair Cook and they collapsed to 140/6 by tea-time only to be rescued by Rahane's 103 runs. He was helped by
Bhuvneshwar Kumar
, who scored 36 runs and put up 90 runs for the 8th wicket -- the highest of
the innings for India.     
"I was telling myself to play as close to the body as possible. After 25-35 runs, I started taking my chances. It was challenging and a completely different wicket. I had a good partnership with Bhuvneshwar. When he first came in to bat, I asked him if he was okay with me taking singles early
in the over. And he said he was confident, so I trusted him," said Rahane.     
"I also want to thank the top-order -- Vijay (Murali), Pujara (Cheteshwar) and Kohli (Virat) -- they played through a crucial phase in tough conditions against the new ball, and watching them bat, I gained confidence," he added.     
When asked if he has now gained expertise in batting with the tail, the century-maker replied, "I have been watching videos of Michael Hussey who used to bat a lot with tail-enders. I have learnt from Virat who in Australia batted with the tail. Dhoni bhai too has batted a lot with the tail so I am learning from them."