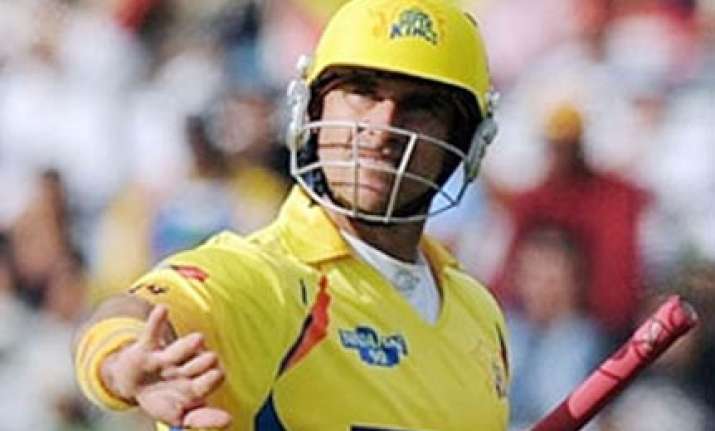 Australian cricketer Matthew Hayden on Thursday put rival teams on notice saying he was optimistic that his side Chennai Super Kings, led by M S Dhoni, will annex the IPL title that eluded it in the last two editions.
Our prospects are very good and I think very optimistic about winning the title. In the last IPL events, we were in top four. Missed the title narrowly in the first year. This year it is going to be that we are going to push towards the top most spot," he told mediapersons in Chennai.  
He said Deccan Chargers tried their might and could not win in the first year but attained it last year. "Therefore, the unpredictable nature of 20-20 cricket also puts us on the edge of the seat,  he said after launching Britain made  Mongoose Cricket Bat , a non-traditional one, for sale in India as its brand ambassador.
Prospects are very good. Yesterday in a practice match Dhoni made over 50 runs off handful of crushing balls. There was nice bounce from the wicket," he said.
Speaking on Dhoni's captaincy, Hayden said "We enjoy very good team sprit built around a good and young skipper. He has achieved individually and also has got an exceptional captaincy record which is growing."
Hayden was also confident of the side's bowling attack, describing it as "very solid".
Hayden said when IPL was launched three years ago the 20-20 format was outrage against one-dayers and Test matches. "But we love the game as much the crowds."
"As a veteran of 103 Tests, globalisation of this game  is very important.  CSK is part of my cricket now. I guarantee this IPL will be full of fun and excitement," he said.
Talking high on utility of the long handled bat on all conditions of turf, Hayden said  I tried out nearly 2000 balls and about 500 balls played with this bat (the reminder with more traditional Mongoose bat).  I keep working on and it is especially for use in 20-20 and it is strategic move. I am absolutely certain that I will be using this bat .
Marcus Codrington Fernandez, inventor of the Mongoose bat, said  No Indian player has approached us. Three overseas players are going to be using this bat in the IPL III. Apart from Hayden, Andrew Symonds and Graeme Smith have come on our board."  PTI