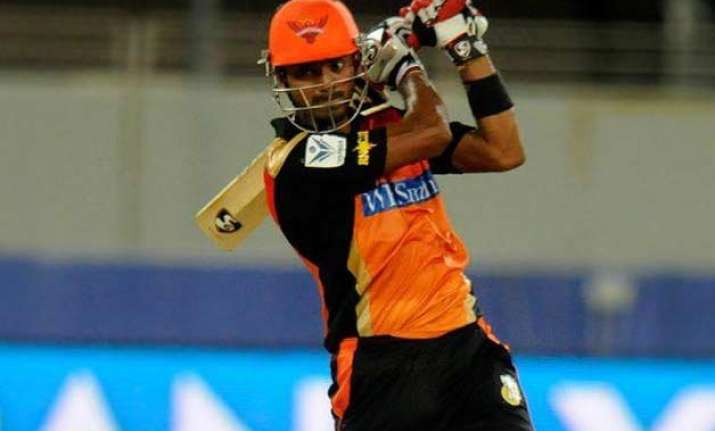 Mumbai: Enjoying a prolific run with the bat, Young Indian opener K L Rahul today said he has become a better cricketer in the last one year owing to a roller-coaster ride both in the domestic and international arena.
Rahul sat out of the first two Tests against Australia before making a debut without much success in the third game at Melbourne and then slamming his maiden hundred (110) in the fourth and last match at the Sydney Cricket Ground in January.
"It's an important phase and I am really enjoying it. Quite honestly it's a dream run not only for the happiness. I have had my share of disappointments too, like in Australia in the first Test and in a few games in the IPL as well. I did not make use of the opportunities as I should have," he said.  
"The last year has taught me a lot. I have become a much stronger and better cricketer," said the 23-year-old Rahul, who has a first-class triple hundred and has performed moderately well in IPL with a top score of 44 not out against Royal Challengers Bangalore.
Rahul said the current phase in his cricket career, in which he has showed phenomenal appetite for scoring runs in first class cricket, was crucial and he was thoroughly rejoicing it even with its ups and downs.
"Everybody has different ways of playing the game. I totally enjoyed playing in Australia. I think they play very tough cricket and the brand of cricket they play is very strong. You need to be mentally and physically very strong to go and perform in Australia," said the Karnataka youngster who plays for SunRisers Hyderabad in the IPL.
After his twin failures in the Boxing Day Test at Melbourne on his international debut, Rahul was lucky to be let off in the 40s in the next Test by rival captain Steve Smith who dropped the high catch after a spider camera's wire came in his view and upset his focus.
Rahul said facing up to verbal volleys was quite a challenge during the Australian tour.
"Obviously, it's like asking if you ate sweets in a festival. You know when you go to Australia you will get sledged. That's the fun of the game. That's the best thing about playing in different countries," said Rahul when asked whether he was sledged during India's visit Down Under.
The Bengaluru-born batsman said he always finds ways to overcome challenges like the ones he faced Down Under on his maiden tour with the Indian seniors team after having visited Australia with the A squad previously.
"That's what I have always looked for - to face challenges and overcome them. Playing in Australia against Australia, especially when it's your first Test and debut series, is not easy. They obviously make it harder—the players and the crowd who are always against you. That's the challenge and I enjoyed playing in Australia. The wickets were really good.
"I had been there before the Test series. I knew a little bit, not a lot. We got very different wickets when we went on the A tour. I learnt about how Australians go about their cricket. It was a great experience for me.
"Before I played my first Test, I was sitting out for a couple of Tests after we went there early. It gave me a lot of time to get used to the wickets, to train hard and know where I can improve my batting to be successful in international cricket as well.
"I spent a lot of time working on my batting and learning from our coaches and from the players around me. They were all very helpful and treated like a person who has the skill, who can improve. They thought I was good enough to be there and made me comfortable. I could not have asked more," said Rahul about his experience in Australia.
Giving the example of Rajasthan Royals and key India batsman Ajinkya Rahane, Rahul said orthodox batsmen (like himself) can make the adjustments to do well in limited overs cricket too.
"We have seen over the years that classical players who are playing good, cricketing shots can be successful in T20 and One-Day cricket as well," explained Rahul.
"If you look at it, the Orange Cap holder (in IPL) right now is Ajinkya Rahane. He is also a very correct batsman and we have seen he's not playing any rash shots. He's just playing normal cricketing shots.
"It's about knowing one's strengths and limitations and sticking to that and trying to figure out a game plan that suits best for the kind of game you have.
"I think that comes with experience and I am still in the process of learning and finding out a method that helps me perform better in shorter formats with the kind of game I have."
He thanked SunRisers' team mentor VVS Laxman for tips during IPL and said he could not have been guided by a better player.
"I have worked with Laxman sir last year as well. The interactions have always been about how you can work on getting better in mind. He believes I have good enough skills to perform at the international level. (It was about) How I can learn to handle pressure better and how I can learn to perform in different conditions.
"I don't think there is a better player than Laxman, who has performed well in difficult circumstances for the country, (to learn from). I am making the most of the opportunity of having him around."
Rahul, who has played a key role in Karnataka winning back-to-back Ranji Trophy titles, credited the Indian domestic set-up for the success of players like Rahane, Virat Kohli and Shikhar Dhawan in matches overseas too.
"Of course the system is very good. Look at any young player who is coming up. People used to say Indians struggle against bounce and that in different conditions Indians don't perform abroad.
"Look at Virat, Rohit, Ajinkya, Shikhar and Vijay. They have been performing consistently everywhere. They got hundreds in New Zealand, England, South Africa and Australia.
"On the last tour of Australia we were getting 400 runs in every innings and everybody looked very comfortable. The credit goes to BCCI for the way youngsters are brought up," he emphasised.