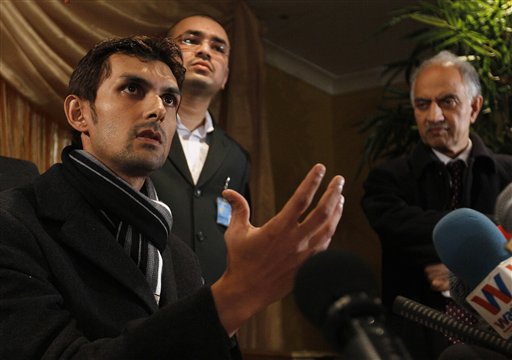 London, Nov 11 :  Runaway Pakistan wicket-keeper Zulqarnain Haider has admitted that he deserted his team midway through a series as he feared for his life and have asked the ICC to monitor suspected players phone calls and movements to eradicate corruption from the game.
In a hurriedly convened press conference at a restaurant in Southall yesterday, Haider confirmed that he had met ICC's Anti Corruption and Security Unit and spoke at length about his decision to abandon his team in the middle of an ODI series against South Africa in Dubai earlier this week after receiving death threats.
"It was very hard for me when I got threats from one person in Dubai. I just felt very nervous that he gave me threats," he said.
"The best way is to record all the players' phones and where they are going. I've heard back in Pakistan that a lot of people areinvolved in fixing, but I think the ICC is doing a good job," he said.
"I just want cricket to be clear of any fixing and all bad things," he added.
Haider reiterated the threat made to him before the fourth ODI against South Africa in Dubai but said the person who issued the warning was not known to him.
"I was told if you work with us, we will give you a lot of money. If not, we will not select you again in cricket and, if you go back home, we will kill you and your family," he said.
"I think they were interested to 'book' me for the fourth and fifth ODI."
The 24-year-old stumper fled to London, where he sought temporary asylum and later retired from international cricket citing threats to his life from match-fixers.
"This country is very humane, very co-operative, and there are very nice people here and there are very good rules here for my safety. That's why I came here," Haider said.
He, however, insisted that he had no plans of seeking permanent asylum permanently in UK.
"I don't want any aid from the British government. I want to be a good citizen and I am a good citizen also in Pakistan. I want to live in peace."
The 24-year-old stumper refused to accuse any of his team-mates of fixing matches and explained why he took the extreme step without informing anyone.
"I didn't want to explain all things to my management because if I tell them, maybe it would create problems for my team-mates and my management," Haider said.
He mantained that he was clean and had never involved himself in any wrongdoing.
Haider also said that he had a meeting with Pakistan High Commission in London yesterday and have sought protection for his family back home.
"I wish they will protect my family because I have two daughters and a wife, so I want to be safe," he said. PTI