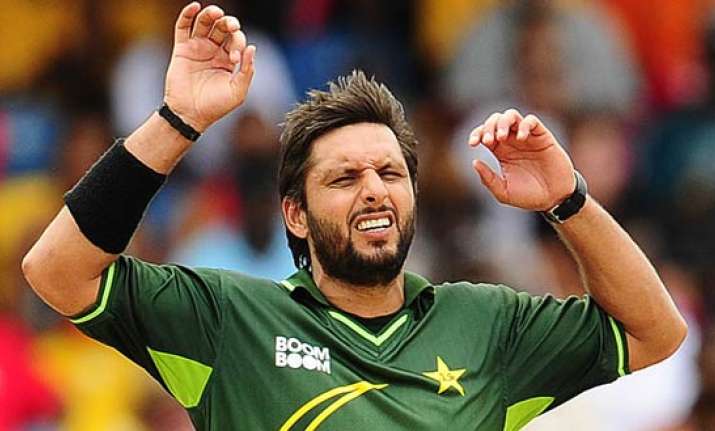 Lahore, June 3 :  Pakistan Cricket Board, while not responding to former captain Shahid Afridi's request of re-issuance of NOC required to play for English county Hampshire, on Thursday formed a three-member disciplinary committee headed by Sultan Rana which will hear a disciplinary case against the all-rounder from June 8, Dawn reported.

"After reviewing the reply from Shahid Afridi, dated 1st June 2011, to PCB's show-cause notice, the PCB has informed Shahid Afridi about the disciplinary process that will be followed from hereon," a PCB spokesman said.

"A Disciplinary Committee comprising of the following has been formed in accordance with PCB's Conduct of Disciplinary Proceedings Policy 2007: Mr. Sultan Rana, Director Domestic Cricket (Chairman), Mr. Shafiq Ahmed, G.M Domestic Cricket (Member), Mr. Usman Wahla, Manager International Cricket (Member), Mr. Taffazul Rizvi, Legal Advisor PCB will assist the Committee," the press release from the PCB said.

"The committee has asked Afridi to appear before it on June 8 at 3.00p.m at the Gaddafi Stadium, Lahore. The committee is empowered to issue notices to parties to appear at the hearing, to frame charges, record evidences, hear arguments and announce order in writing as soon as possible. The proceedings will be conducted in camera and no outsider will be allowed to attend.

"The aggrieved party against an order of Disciplinary Committee may file an appeal. The forum available is the Appellate Tribunal.

Under PCB's Constitution, PCB maintains an independent panel of arbitrators who are all eminent retired judges of High Courts. Should an appeal be preferred, an Appellate Tribunal will be formed from amongst the independent panel of arbitrators. Please note that the decision of the Appellate Tribunal shall be final and binding on both parties," it further stated.

"Commenting on the letter sent to Shahid Afridi today, PCB's COO Subhan Ahmad said: "It is painful for us to get involved in a dispute with a cricketer who has been the national team captain until the West Indies series 2011. There are numerous contributions by Afridi to Pakistan cricket.

"But I think people need to understand that this is purely a disciplinary issue. As the body managing cricket in the country, we are duty-bound to maintain discipline at all levels. We will ensure that Shahid is given every opportunity to express and defend himself and as such the disciplinary process has been clearly spelt out to avoid any ambiguities," the press release concluded.