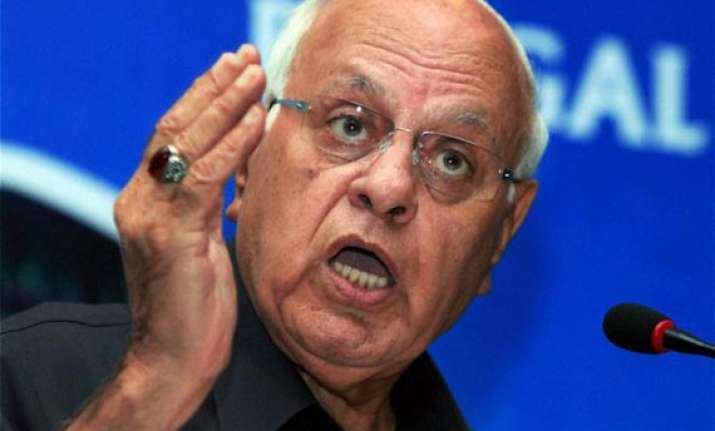 Ganderbal (J&K), May 28: The Board of Control for Cricket in India (BCCI) president N. Srinivasan on Tuesday got support from Union Minister Farooq Abdullah, who said it makes no sense in demanding the BCCI chief's resignation as it has not been proved that he is involved in any wrongdoing.
"Why should he resign?," Mr. Abdulla, president of the Jammu and Kashmir Cricket Association, said.
When pointed out that Mr. Srinivasan's son-in-law is alleged to have been involved in betting, Mr. Abdullah countered, "How does it matter?" "If my son-in-law is involved, it does not mean I have to step down. Let the investigation get over. If it comes out in investigation that N. Srinivasan is responsible, he will go, he is an honourable man," Mr. Abdullah said.
Mr. Abdullah, who is Union Minister for New and Renewable Energy, said betting in sports should be legalised in the country.
"Betting must be made legal, otherwise it would continue.
Worldwide it is there. You are betting in Dubai, you are betting in England, in America, why not in India?" he questioned.
On being asked if he would bet, Mr. Abdullah said, "I dont know how to bet, I will never win if I bet."
Responding to a question, Mr. Abdullah said sports and politicians are inseparable.
"The day you take politics out of sport, there will be no sport," he said.
Mr. Abdullah's views on politicians in sports governance, is contrary to those of his son and Jammu and Kashmir Chief Minister Omar Abdullah who believes that the job should be left to sportspersons.
"I am personally of the view that sports bodies should be administered by sportspersons — that is the great favour we can do to sports people," Mr. Omar had said recently.