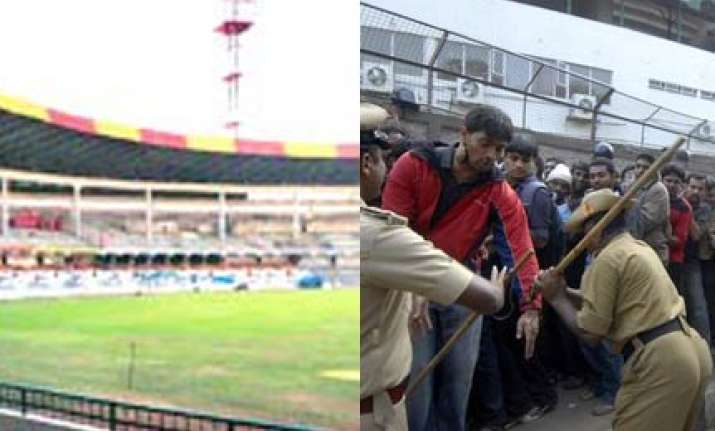 Bangalore, Feb 24: Chaos reigned supreme outside the Chinnaswami Stadium here today as police lathicharged thousands of disgruntled fans who had camped outside the KSCA office to buy tickets for Sunday's high-voltage World Cup showdown between India and England.Police were seen hitting fans with sticks as chaos broke out among those who had been waiting outside the arena since yesterday to buy tickets from the box office.
"Mad rush is expected for any good match. A lot of people desire to watch the match. About 6000 tickets have been sold at the gate," said Karnataka State Cricket Association secretary and former India pacer Javagal Srinath.However, contrary to Srinath's claims, it was learnt that only 1000 tickets out of 45000 -- the capacity of the stadium -- have been put on sale here.
"We are still waiting for tickets to come back from the ICC and BCCI. If they come back, the only way we can give the public is through net, through Kyazoonga, the official ticketing partner for the event," Srinath said.
He said that it's always difficult to satisfy everyone's needs ahead of such high-voltage clashes."We are trying to cover as much as possible. But for a match of this magnitude, even if you double (the capacity) or triple, it's not enough."
The Indian Cricket Board and and the KSCA, meanwhile,have said that the stadia capacity is limited and the International Cricket Council's (ICC) demand for tickets have to be accommodated.
"The biggest challenge we are facing now is trying to meet the expectation of people, and that's not possible. There is a limit till where we can keep people happy. Beyond that unhappy people will always say things which we can't answer,"Srinath said.KSCA president Anil Kumble refused to speak on the issue,saying that Srinath had addressed a press conference.
The ICC yesterday, in a letter to organising committee chairman, Sharad Pawar, has asked him to sort out the ticketing mess as soon as possible.The ICC pointed out that with tickets in very short supply, box office sales could turn into a security nightmare.The ICC has not been given its share of tickets for matches for its international sponsors who are entitled to complimentary tickets.
It must be mentioned that on Monday, the official online ticketing agency, which had been expected to sell just 1,000 tickets for the final in Mumbai, crashed after 10 million fans tried to log on in just 20 minutes. PTI